November 14, 2011 -
Matt Bowen
Vikings-Packers: three things to watch
As we get closer to kickoff tonight at Lambeau, here are three things I am looking for in the Vikings-Packers matchup.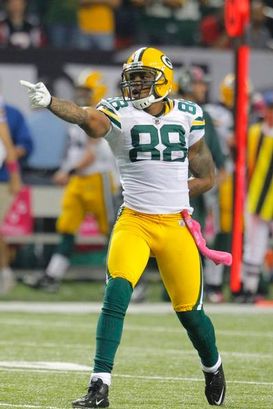 ICONCover 2 might be the best game plan vs. Finley and the Packers' offense tonight.
1. Finley vs. Vikings' secondary: The Vikings will play some Cover 2, and the more I think about it, this might have to be the lead call vs. Rodgers and the Packers. Minnesota doesn't have the coverage ability at the safety position to matchup with Finley when he is removed from the core of the formation as a WR in their man-coverage schemes. And when the Packers move the ball inside of the 10-yard line, you know what to expect: the one-step fade. If I am calling the defense tonight for the Vikings, I try to lean on my Tampa 2 scheme (even with the Mike Backer matched up on Finley), force the ball to go underneath and overlap with my safeties on any inside vertical route from Green Bay's dynamic TE.
2. Make A.P. the focus of the game plan: Use the league's No.1 RB to keep Rodgers off the field. This isn't complex football we are talking about here with Peterson. Instead, focus on the run game you install the first week of training camp. This allows you to challenge the Packers' front seven, set up the vertical passing game and use play action to move rookie QB Christian Ponder outside of the pocket. But it has to start with A.P. I'm thinking 20-25 touches at a minimum tonight.
3. Ponder vs. Woodson: The Packers' CB had two INTs in their first meeting (and it could have been three). Woodson will sit on routes and bait the rookie vs. both inside and outside breaking concepts by playing from almost a trail position. For Ponder, the key is to understand leverage and put the ball on the up field shoulder of his targets. He is going to see a mix of pressure and coverage from Dom Capers' tonight, but if he stares down his receivers and tries to challenge Woodson, that will lead to an interception. Can't turn the ball over on the road on Monday night.
Follow me on Twitter: @MattBowen41