November 01, 2010 -
Matt Bowen
Waiving Moss adds to the mess in Minnesota
Goodbye, Randy Moss.
That is the message—which was first reported by the NFL Network's Michael Lombardi—sent today to the wide receiver from the Vikings. That 3rd round pick that Minnesota gave up to the Patriots? Good for four weeks of running routes with QB Brett Favre. 13 receptions, 174-yards, 2 TDs—and a 1-3 record. A wasted move? For sure, and despite Moss' post game comments on Sunday, it just leads to more questions about this Vikings team under Brad Childress.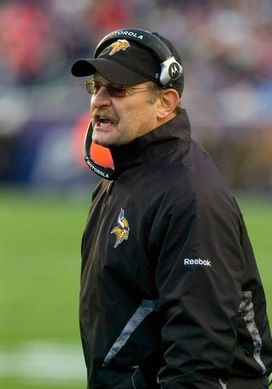 ICONTime to start asking questions about the direction of Childress' Vikings.
Minnesota is buried in the NFC North with a 2-5 record. Their 41-year old QB could hardly walk off the podium after the loss to the Packers and was taken off on a cart in Sunday's loss to New England after taking a helmet to the chin. And, let's not forget the opinion Childress had on Favre's decision making for the media just last week.
Let's be honest here. It is hard enough to win on Sunday's in the NFL when you don't have drama in the locker room, out at practice and in every single press conference held in the team facility. In Minnesota, it just adds to the distractions for a football team that is loaded with talent. But, when you stack the losses on top of all the talk, it becomes magnified. And, I have to wonder if--or when--that locker room is going to turn on Childress.
NFL seasons are very fragile and I have been in a situation where the team basically shut out the head coach. Back in 2003 with Steve Spurrier in Washington. After a 3-1 start, we limped to the end of the season with a 5-11 record. Spurrier lost the locker room, and when that happens, the season starts to spiral out of control.
Part of winning in the NFL when it comes to the head coach is managing egos—pro egos. Schemes, game plans, how you script practice, training camp, etc. are all a part of a coaching in this league. But building that chemistry and working with names like Favre, Moss, Adrian Peterson and so on plays a major role. Childress has failed in that department and the 2-5 record—along with the player's post game comments—speak to that. Have to find a way to blend that talent and make it work as the head coach.
We will find out tomorrow where Randy Moss plays his next game in the 2010 season, as I doubt he will pass through waivers without someone scooping him up—because the overall talent is still there to see.
However, for the Vikings and Childress, this looks like a sinking ship in Minnesota.
Follow me on Twitter: MattBowen41