February 13, 2011 -
Matt Bowen
Wallace vs. Shields: press-coverage breakdown
Let's go back to Super Bowl XLV in Dallas during Green Bay's 31-25 win over Pittsburgh and breakdown Mike Wallace of the Steelers vs. Sam Shields of the Packers. A one-on-one matchup outside of the numbers with Shields aligned in a press-look.
Press-coverage (or "bump and run") is purely technique based. Your hands, footwork, hips and eyes are all tested when you want to challenge the WR at the line of scrimmage. Lose your technique—or guess—in the NFL and you will get beat. Sounds simple, but vs. the speed of a No.1 WR you have to rely on your technique to win.
We all know the play: a 9 (fade) route vs. Cover 1 (man-free) out of a 3x1 alignment with a single high safety in the middle of the field. Let's check out the TV tape and get into some detailed coaching points to help you understand why Shields gave up the score.
Coaching points
Breaking down the play and talking technique…
1. Use your hands: Play a physical style. What we see on the TV tape is Shields keeping his hands low at the snap. That's a minus on the grade sheet. As a DB, your hands are your weapons at the point of attack in press-coverage. Keep your hands high and punch on the initial move from the WR. With Wallace releasing inside, Shields should punch with his outside (right) hand and then come back with his inside (left) hand once Wallace breaks back to the outside. However, when we see a DB that doesn't want to use his hands in press-coverage, he is already at a disadvantage. Use your hands—because they also allow you to keep your body square to the WR.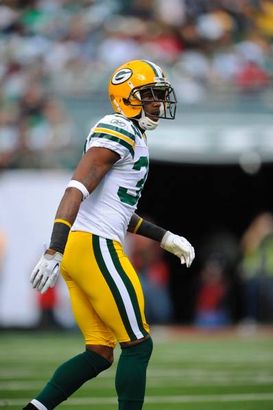 ICONGreen Bay's Sam Shields.
2. Slide your feet: Shields is too aggressive with his footwork on Wallace's initial move and that causes him to "hop" inside. Instead, slide your feet on that initial inside move (think "mirror' technique). Just like we talked about with the hands, move your feet and stay square to the WR to cut off any initial route stem. It disrupts the timing of the route and allows you as a DB to react to any counter moves. But in this case, when Shields does hop inside, he opens his hips (called "opening the gate") and that puts him in an immediate trail-position. A tough spot to be in playing Cover 1.
3. Play to your help: In a Cover 1 scheme, use the free safety and any inside help you can find. One the initial move from Wallace, Shields can slide his feet, stay square and in reality, give up the inside. Force Wallace to use that vertical release and stem his route up the numbers—funneling him to free safety Nick Collins. But this turns into an outside release, and Collins can't get over the top of the 9 route. If you are going to get beat, force the WR to release to the free safety in Cover 1—because it might save you.
4. Recovery: Shields is beat. We can all see that. However, there are some positives here to look at from his perspective. Watch his angle to Wallace. Shields runs to get back "in-phase" to the WR (bottom hip). Exactly what you want to do as a DB if you are in a trail position. Second, he never looks back at the ball. The one glaring mistake that DBs will make when they are beat at the line is to get their eyes back to the QB. That's bad football. Why? Because the QB isn't throwing the ball to you. In this situation, without getting his hands on Wallace at the point of attack—and the near perfect ball from Ben Roethlisberger—Shields can't recover in time to make a play. However, we can all see the recovery speed of the Packers' CB.
Playing productive press-coverage is a process—a technique based process. Win early and we don't have to talk about getting back "in-phase" or recovery speed. A good learning experience for the Packers' young CB.
Follow me on Twitter: MattBowen41