November 26, 2012 -
Matt Bowen
Want to stop RG3, Redskins? Then read your run/pass keys
Click here for the entire Inside the Playbook series.
After watching the Redskins-Cowboys All-22 tape from Washington's 38-31 win on Thanksgiving, I keep going back to RG3's 68-yard TD pass to Aldrick Robinson. Why? Eye discipline in the secondary. The No.1 reason (along with leverage and footwork) that DBs get beat. And if you want to limit Griffin and this Redskins' offense, you better "keep your eyes on your work."
Let's break this play down on the All-22 cut-ups…
Redskins vs. Cowboys
Personnel: Regular (2WR-1TE-2RB)
Formation: Pistol (2-Back)
Route: Post
Defensive Scheme: Cover 4 (quarters)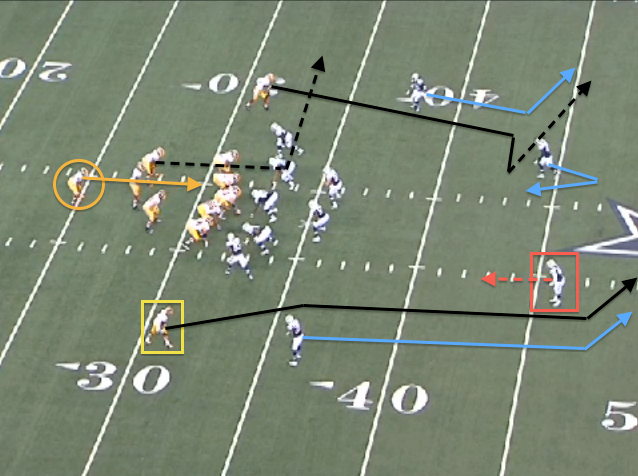 - Let's start with the WR splits/releases. With both wide outs aligned inside of the numbers (and taking a hard, inside stem on the release) the Redskins are giving this Cowboys' secondary a false run key.
-Run action to the open (weak) side of the formation vs. Cover 4 (or "Quarters").
- Basic rule for a Cover 4 safety: read No.2 or High-Hat (Pass) vs. Low-Hat (Run). With the Redskins using pre-snap motion to align the TE in the backfield, both the SS and FS should read the open/closed side offensive tackles.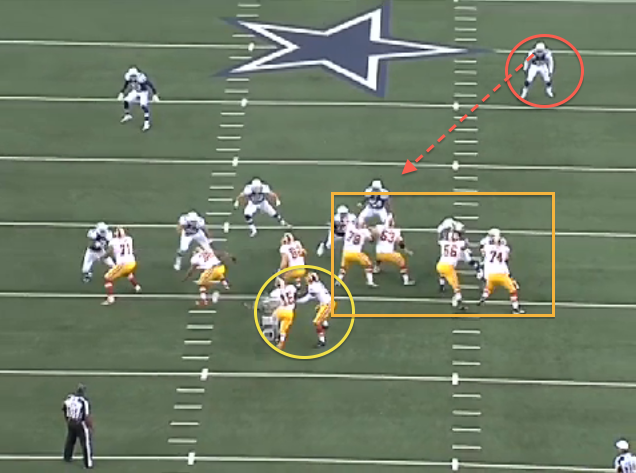 - Once the SS reads High-Hat at the snap (orange box), get your eyes to No.1. Remember, in Cover 4 the CB is playing off and to the outside (think Cover 1 technique). SS Danny McCray should read pass, turn and get to the inside hip of Robinson to "bracket" the WR on the post. However, with his eyes stuck in the backfield, McCray hesitates and allows Robinson to stem vertically.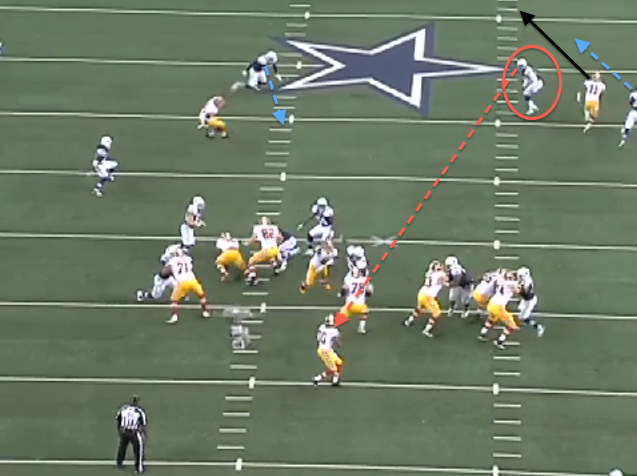 - Another look at McCray. Even with Robinson pushing up the field, the SS opens to the inside (you want the SS to open to the WR) and continues to stare down the QB. "Two trains passing in the night" as a coach would say.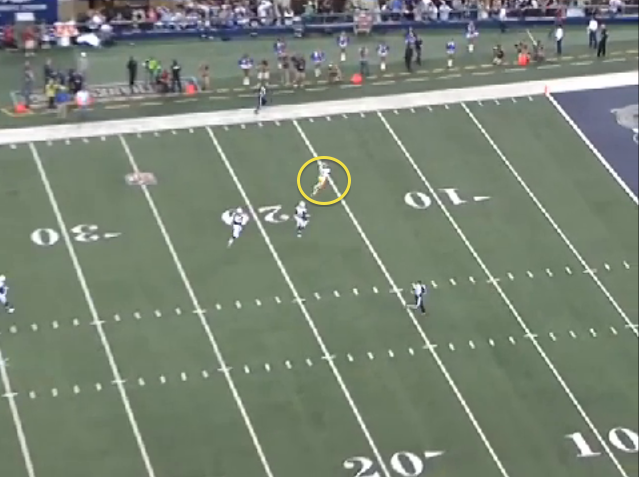 - With no inside help from the SS, CB Brandon Carr now has to chase and play a deep post (to the opposite numbers) from an outside trail position. No chance to make that play. And it all started with poor eye discipline at the snap. Something you can't do vs. this Redskins' offense and expect to produce in the secondary.
Follow me on Twitter: @MattBowen41