November 11, 2010 -
Matt Bowen
Want to throw away 5k? Then dress up that uniform
Uniform violations. We see them every Sunday. This week, Vikings' WR Bernard Berrian was fined $5,000 dollars for wearing yellow cleats in the win over Arizona.
That's 5k—before taxes.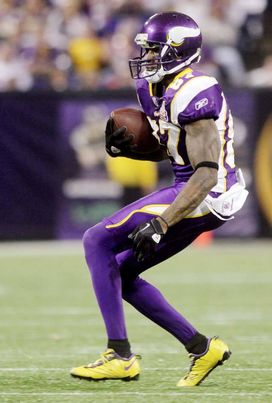 Berrian's yellow cleats cost him $5,000 dollars this week.
Think about that for a minute. You might as well take that 5k and throw it out on the freeway or put it in the oven. Because that is what players are essentially doing. It comes right out of your weekly game check. There will be a subtraction of the cash that goes right back to the league. Open and shut case.
I saw this all of the time when I played. Guys will knowingly alter there uniforms—form their socks, shoes, jerseys, gloves, etc. Anything to draw attention to themselves on game day. One guy I played with would put his uniform on the ground in front of his locker and mix and match accessories to it—like dressing up a doll. A wristband here, the length of the towel (that is also a fineable offense), shoelaces, high socks, low socks and so on.
Every Sunday he would ask me, "You think I will get fined for this?"
The so-called "uniform police" will walk around the field in the pre-game warm-ups with a pen and a notepad—marking down every infraction they see. That is then passed over to the equipment managers. About ten minutes before game, the head equipment guy will walk around and let you know if you need to lower your socks (or pull them up) tuck in your jersey, etc. From that point on, it is up to the player to make the adjustment or wait for that Fed Ex letter to will show up in their locker on Wednesday—with a New York City address.
It never bothered me, because if someone is willing to hand over 5K to stand out, well, then so be it—and I saw it all. Money wasted? Without a doubt, but all part of the NFL on Sunday mornings in the locker room.
Follow me on Twitter: MattBowen41