July 26, 2010 -
Matt Bowen
Was Dez Bryant out of line in training camp?
I carried pads as a rookie in 2000 with the St. Louis Rams — for the entire season. The veteran DBs would drop their gear after practice in camp (and all the way throughout the playoffs) and I would pick them up and carry them in.
Two rookies, myself and a CB from Okie State, were in that defensive backs meeting room. And, we did whatever we were told because we were just first-year guys who hadn't done anything in the NFL.
In Dallas, rookie WR Dez Bryant took the other option and refused to carry veteran WR Roy Williams' pads after practice. Is it a big deal? Not to anyone outside of that locker room, and it may even look childish from your point of view. Looks and feels like a non-story, right?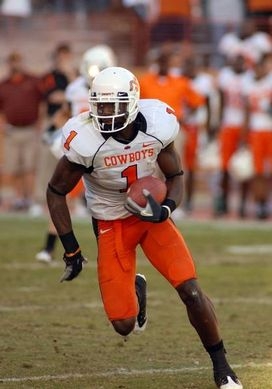 ICONDez Bryant is already a hot topic down at training camp in Dallas.
More of a "rite of passage" in this league. Because it just gets tougher for rookies who want to step on veterans' toes — even when Bryant is asked to carry the pads for a player he is eventually going to pass on the depth chart.
Every rookie goes through it, and my advice is to do what the vets say. Let's face it, veterans dislike rookies in the first place. For starters, they are brought in as their eventual replacements, and for first-rounders such as Bryant, they want to see them show some respect — because they haven't done anything yet. Show up at camp acting like you have arrived only makes the veterans come after you in practice even more. It is just not worth it from a rookie's perspective.
And, it will continue. I had to buy breakfast every Thursday throughout the regular season, help pay for "rookie night" in Macomb at training camp, and head to the bank before I took the vets out for dinner in St. Louis. Bryant will do that, and I would expect the Cowboys veterans to hit him in the wallet on that night — bottles of Dom and all.
But, don't call it "rookie hazing." They aren't doing harm, and unlike some of the things I saw in my career — complete with rookies taped to the goal posts in full pads — this is just a veteran-rookie relationship during the first days of camp. We aren't talking about fraternity paddles here.
We have to understand that veterans want rookies to prove their worth on the field. Make plays in practice and show up in the preseason games leading up until September — and then try to keep pace for the regular season.
But, in the meantime, rooks will carry pads and will buy dinners. Every veteran had to do it, too. This should be a non-story. But, until Bryant shows the vets that he can play (which I do suspect will come very soon with his talent), he is still just a rookie. Show some respect.
Ready for fantasy football? Click here to purchase the Total Access Pass/ Draft Guide from the NFP.
Follow me on Twitter: MattBowen41