March 21, 2012 -
Matt Bowen
Was Goodell 'excessive' in his punishment of Saints?
I didn't see this amount of discipline coming to the Saints after the "bounty scandal" that flipped the NFL upside down a couple of weeks back. But that's exactly what happened today when Commissioner Roger Goodell dropped the hammer on the entire organization.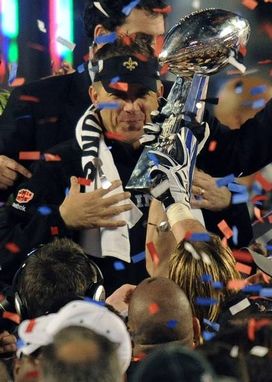 ICONThe Saints will be without head coach Sean Payton for the entire 2012 season.
Look at this list:
- Head Coach Sean Payton: one-year suspension
- Former defensive coordinator Gregg Williams: "indefinite" suspension
- GM Mickey Loomis: eight-game suspension
- LB Coach Joe Vitt: six-game suspension
- The loss of two 2nd round picks (2012, 2013)
- $500,000 dollar fine for the club
With Williams, I get it. I wrote a piece for the Chicago Tribune that detailed some aspects of a player bounty system under his coaching in Washington. And after he was clear in admitting to running the program in New Orleans, a suspension was really the only legitimate route here. I expected to see at least 8 games, and possibly more. A suspension that now impacts the Rams as they will have to look for a new coordinator in 2012.
However, to lose the head coach? Draft picks are one thing—and can impact the future of a franchise to some extent—but how do you replace a proven head coach (with a ring) before the season starts? This will hurt the Saints, their entire coaching staff, roster, game prep, etc, etc. You lose a leader like this and a team has to scramble, adjust and try to put together a winning team on the field. And its not as easy as promoting someone from within to keep the train rolling. This is a real blow.
Add in the suspension to Loomis and I can see why this is looked at as "excessive" from Goodell. I can agree with that. However, from my perspective, this is the boss of the NFL making an example out of the Saints, possibly destroying their 2012 season and letting every club know that "bounties" (or the cover-up) will never be tolerated again in this league.
It was harsh and it will sting the Saints on multiple levels.
Follow me on Twitter: @MattBowen41