November 30, 2010 -
Matt Bowen
Was the punishment enough for Johnson, Finnegan?
Throw a punch on the field and you are looking at a $25,000 dollar fine. That is what the league office is telling us after both Cortland Finnegan and Andre Johnson were fined that exact dollar amount after ripping each other's helmets off and turning a pro football game into an amateur side act on Sunday.
No suspensions. Just a minimal fine—a warning shot really.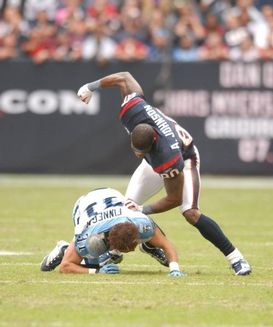 ICONWhy wasn't a suspension handed out to Johnson and Finnegan by the NFL?
Let's think about that. Defensive players who drive downhill on the football from the secondary and cause helmet-to-helmet contact are fined massive amounts of money. And most of the time we are talking about unpreventable hits. A receiver turns his head right before contact, adjusts his body, or ducks his head all together. The result is a huge collision and dollar signs for the league. Big money for a defensive player that is going hard to the ball.
However, both Finnegan (who has been fined before) and Johnson seem like they got off with a quiet slap on the wrist. Yes, there will be some that will compare it to the Raiders' Richard Seymour and his open hand slap to the face of Steelers' QB Ben Roethlisberger that netted him $25k. But, can we really say that?
That is the issue for me. This was an actual fight, something that should be reserved for training camp when two players (who have their helmets on) throw a couple of jabs after a play during inside run drill or 11-on-11 team during the second practice of the day. Only to be quickly broken up by coaches and tired teammates in August. However, in a regular season game? No place for it. The ejection on Sunday? That had to go down, and there was really no way around it. The right call.
But, the small fine—and the lack of suspension for either player—doesn't add up from my perspective.
I'm not going to act naive and pretend that Finnegan didn't initiate this fight, or provoke Johnson throughout the game (like we see on the ice in the NHL), but I still don't have to agree with it. Nor am I going to turn a blind eye to the emotion that takes place in the competitive setting of an NFL Sunday. I've been there, just as any player—current or former—in the NFL. There are plenty of times where you would like to turn a game into a bar fight. Players are provoked all of the time.
There is really no place for that on the pro stage. A one game suspension and larger fine would have set the right example, and maybe prevented this from every happening again. The NFL, and Roger Goodell, dropped the ball on this one.
What's your take? Let me know…
Follow me on Twitter: MattBowen41