November 12, 2010 -
Matt Bowen
Week 10 NFL tip sheet
Let's get you ready for the Week 10 NFL action. Personnel to watch, my top ten teams, pregame notes and picks for the entire slate of games.
Personnel To Watch:
Chad Pennington, Dolphins: Big news in Miami this week when Chad Henne was sent to the bench for Pennington. Curious to see if the Dolphins alter their game plan with Pennington under center and if the new Miami starting QB can get the ball down the field to WR Brandon Marshall.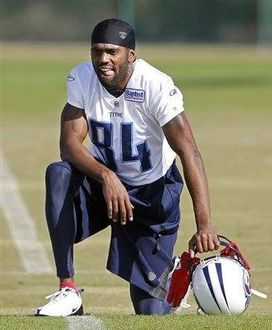 Moss will line up at WR for the Titans on Sunday down in Miami.
Randy Moss, Titans: How many snaps does the new Titans' WR get and what type of impact does he have on this Tennessee offense? We will know early if Moss is a big part of the game plan.
Eli Manning, Giants:. Manning should see the same pressure scheme from the Cowboys he did in the Monday night game and once again work with one-on-one matchups outside of the numbers. Time to attack that secondary.
Rashard Mendenhall, Steelers: I have been impressed with the Steelers' RB every time I watch him play—especially with his top end speed once he reaches the second level of the defense. Good matchup for Pittsburgh vs. the Patriots' front seven.
Donovan McNabb, Redskins: There really has been far too much talk and controversy at Redskins Park since the loss at Detroit concerning the Washington QB. Time to go out and play and let McNabb run this offense on Monday night vs. the Eagles at Fed Ex.
My Top Ten Teams:
1. Pittsburgh Steelers: 6-2
2. New York Giants: 6-2
3. New York Jets: 6-2
4. New England Patriots: 6-2
5. Atlanta Falcons: 7-2
6. Baltimore Ravens: 6-3
7. New Orleans Saints: 6-3
8. Green Bay Packers: 6-3
9. Philadelphia Eagles: 5-3
10. Indianapolis Colts: 5-3
Pregame Notes:
Tennessee: Go back to Moss' first game with the Vikings and QB Brett Favre. His No.1 route: the 9 (or fade). Didn't have a grasp on the new playbook and had to essentially sit out the 2-minute drill. Let's see what he can do with only a week of practice in Tennessee. Tough to pick up new terminology, formation recognition, etc. in that limited amount of time—even if they are the same routes he has been running his entre career.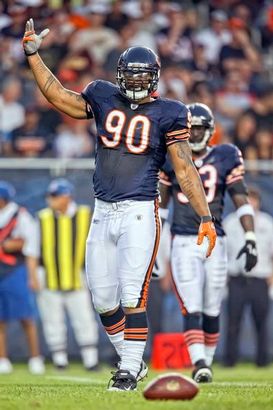 ICONChicago's Julius Peppers.
Chicago: A good matchup to watch at Soldier Field is Bears' DE Julius Peppers vs. Vikings LT Bryant McKinnie. Last season, when Peppers was in Carolina, the DE outplayed McKinnie and was able to apply pressure to QB Brett Favre routinely throughout the game. The Chicago defense has shown more pressure in third down situations over the last three games, but if Peppers can win his one-on-one matchup, it will allow Lovie Smith to play more Cover 2 in passing situations.
Cleveland: From what I have heard, one of the reasons the Browns are playing good football has to do with the relationship between the locker room and head coach Eric Mangini. There isn't a "disconnect" anymore between player and coach—and it is showing on the field. The Browns' roster is confident and have beaten New Orleans and New England in their last two games. This week: another test for rookie QB Colt McCoy against Rex Ryan and the Jets' defense.
Dallas: Comes down to secondary play when we discuss the defense of the 1-7 Cowboys. Dallas wants to play both Cover 1 and Cover 0 (no safety help) in the backend, but they have given up plays all season. It is easy to talk about being a pressure defense, but when the QB can get the ball out of his hands and continually throw the 3-step slant, DBs have to cover. If Jason Garrett wants to win his first game as a head coach, this defense has to start making plays on the football.
Seattle: The combined score of the Seahawks' last two losses: 74-10. The offensive line for Seattle has become a constant issue and their front seven on defense can't get off blocks and make plays in the run game. Doesn't matter if QB Matt Hasselebeck is back in the lineup. Seattle has to start winning up front.
Cincinnati: There is a lot to gain for the Bengals defense from studying the Eagles-Colts tape from last week. Philly showed more pressure than I expected in their win over Indy, and forced Peyton Manning to move in the pocket and get rid of the ball. At 2-6, I don't see any reason why Cincy defensive coordinator Mike Zimmer won't go after Manning. They need to generate some plays on defense.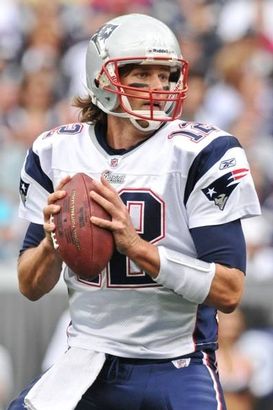 ICONBrady and the Pats have to manage the Steelers' pressure on Sunday night.
New England: Any time you play the Steelers, your offensive production will come down to how you handle pressure. For Tom Brady and the Pats, that means getting the ball out quickly. Look for New England to use a wide variety of personnel groupings and alignments. Run the short, combination routes out of bunch and stack looks, which will allow Brady to complete quick, simple reads. In the run game, use the sprint draw out of the gun. Have to try and slow down this Pittsburgh defense.
Philadelphia: What type of defensive scheme does QB Michael Vick see from the Redskins on Monday night? Washington will play Cover 2 and Cover 6 (quarter, quarter, half) against the Eagles' QB so they can drop to a landmark and see the quarterback. Plus, they will play some "Gold" coverage (similar to Cover 2) where the CBs will drop the vertical route by No.1 and jump the flat route and any underneath crosser. A good call vs. the west coast system of Andy Reid.
St. Louis: Good test for Sam Bradford on the road against the Niners. I have been more than impressed with the rookie quarterback's ability to take calculated risks in the passing game and protect the football. Now, lets see how he responds in a divisional road game in the month of November. Higher stakes for a young player.
Denver: Coming off of the bye, let's see if the Broncos made the proper corrections to fix the issues with their run game on offense. QB Kyle Orton has posted good numbers, but at 2-6, something has to give in Denver. And, with a week off to game plan, I wouldn't be surprised to see Tim Tebow in another new red zone package. Josh McDaniels needs to start winning games to stay off the hot seat in Denver. Not going to be easy against a good Chiefs team.
Week 10 Picks
Last Week: 10-3 (47-21 overall)
Buffalo over Detroit
Chicago over Minnesota
N.Y. Jets over Cleveland
Indianapolis over Cincinnati
Jacksonville over Houston
Tennessee over Miami
Tampa over Carolina
Kansas City over Denver
Seattle over Arizona
N.Y. Giants over Dallas
San Francisco over St. Louis
Pittsburgh over New England
Monday Night
Philadelphia over Washington
Three mu st see games...
1. New England (6-2) at Pittsburgh (6-2)
Two AFC favorites—with Brady going against that Steelers' D.
2. Philadelphia (5-3) at Washington (4-4)
Big fan of NFC East games on Monday night—and the McNabb drama adds to this one.
3. Tennessee (5-3) at Miami (4-4)
A new QB for the Dolphins and the side show act that has become Randy Moss.
Follow me on Twitter: MattBowen41