November 22, 2010 -
Matt Bowen
Week 11 winners and losers
Let's check out my winners and loser from the Week 11 NFL action. Five that stood out and five that disappointed…
Click here to read my game notes from early kickoffs.
Click here to read my game notes from the late kickoffs.
Week 11 Winners
1. Aaron Rodgers: We can all see the numbers from the Packers' QB in the 31-3 win over the Vikings yesterday: 22-31 for 301-yards and 4 TDs—with three going to WR Greg Jennings. Rodgers made plays both in and out of the pocket, challenged defensive backs and made the throws in the red zone. Looked like an elite talent. But, go even deeper, because this win concluded a sweep of Brett Favre and the Vikings. Has to feel good for Rodgers to outplay Favre in both wins—the same guy who he has heard about for three seasons since he left town.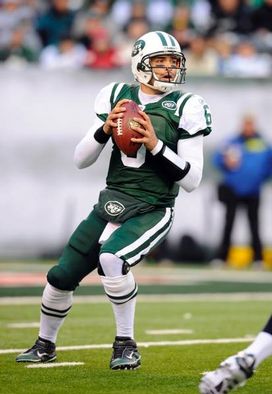 ICONSanchez made two big throws in the game winning drive for the Jets.
2. Mark Sanchez: That is a big time QB play when you drive the length of the field—with no timeouts—to win a come from behind game in the fourth quarter. Sanchez looked calm, controlled this offense and made two big throws. The first went to Braylon Edwards on the 9 route vs. 2-Man that set up the winning TD pass to Santonio Holmes on the "wheel" route vs. press coverage. Two great calls by offensive coordinator Brian Schottenheimer and two big throws from the Jets' QB. That is now three straight weeks where this Jets' offense has made the plays to win the game in a crucial situation.
3. The Patriots: We have to understand how hard it is in the NFL to play consistent football against top tier competition. New England goes into Pittsburgh last week and beats the Steelers. A quick turnaround and a week to prepare for Peyton Manning and the Colts' Cover 2 defense. The playoff teams can do that and continue to win. Exactly what we are seeing from the Patriots' right now. Watching that game, I expected Manning to come down the field and make a play to give Indy the lead with little or no time remaining. But, bad throw or not, James Sanders makes the big play to send New England to 8-2.
4. Reid's 4th down call: Go back to the 4th and 1 call for the Eagles last night down 17-16 to the Giants in the 4th quarter. With New York showing a pressure look—and their safeties in the run front—Philly runs the "Power OT". Toss the ball and pull the onside guard and tackle—along with a crack block from the WR in motion. What we are essentially looking at is a "toss crack" versus inside penetration. RB LeSean McCoy has free room to run and takes it in for a 50-yard TD. It is a risky call because it takes time to develop with the pulling O-Lineman. However, Reid caught the Giants in the ideal defensive front for this play to have production. Huge play in a game where Michael Vick had to grind out numbers against a Giants' defense that played with a good mix of pressure and coverage.
5. The Redskins: The entire locker room—from Donovan McNabb to Mike Shanahan—should get game balls. That loss last Monday to the Eagles in front of national audience was as embarrassing as it gets for a pro athlete and coach. And I can tell you that these short weeks after a Monday night game impact your routine and how you prepare for your next opponent. But the 'Skins go down to Nashville, play good defense, make plays in third down situations on both sides of the ball and lean on McNabb. The Washington QB throws for 376-yards against a very physical Titans' defense and gets the 19-16 win it OT.
Week 11 Losers
1. Brad Childress: This team is toast. You can see it in their poor execution on the field; their lack of big plays and it has spilled over to the sidelines. Emotions will always run high on NFL sidelines, but when you see players jawing at each other, a 3-7 record and a QB not producing, you can forget about the season. They will play out the string, because that is what they are paid to do, but it always starts and ends with the head coach. Childress lost this team a while ago, and no matter how we try to spin it, he has to be the first to go. These situations are really tough to be a part of, but they happen every single season in the NFL when expectations aren't met and players start to turn on the coach.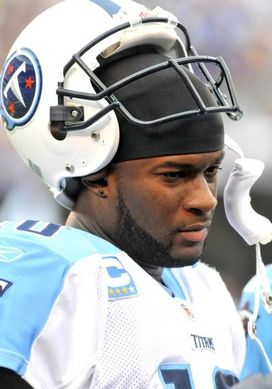 ICONJeff Fisher is sitting Vince Young down in Tennessee.
2. Vince Young: Can't let emotions take over as an NFL QB. Young was upset that he wasn't inserted back into the lineup after an injury, threw his shoulder pads into the crowd after the game and then walked out on his team—and Jeff Fisher—in the locker room. Maturity issues. That has always been the problem with Young on and off of the field. No pro player should act like that, and I am pretty sure that we will never see those type of actions from McNabb, Brady or Manning. You just can't act like that as a QB in the NFL. And, let's not forget about the locker room. Tough to trust your QB after a situation like that—regardless of the relationship between the player and the coach. It is the right call for Fisher to sit Young whether he can play with the injured thumb or not.
3. The Raiders: Can't let one week swing our overall opinion on Oakland—because they can still compete in the AFC West. But, let's be honest: they didn't look like they belonged on the same field as the Steelers' yesterday. Outplayed in all three phases of the game and didn't play that physical brand of football that brought them back into the playoff discussion. We will probably see another QB change with Bruce Gradkowski taking over for Jason Campbell (again). Very interested to see how they play next Sunday when they host Miami.
4. The 49ers: Bad football for Mike Singletary's club. I understand that Raheem Morris has a very solid Bucs' team sitting at 7-3, but I didn't expect the Niners to get physically worked like that up front in a 21-0 loss. The San Fran offense only could put up 189-yards of total offense and Frank Gore was held to 23-yards on 12 carries. And the Tampa offense racked up 162-yards rushing on top of that. Everyone in the NFC West lost in Sunday, and it would have been a perfect time for San Fran to get back within a game of Seattle. But you have to show up to do that.
5. Special teams injuries: I wanted to talk about the hit on Eagles' kick returner Ellis Hobbs. No one wants to see these hits, but they are magnified on special teams. Returners are at risk every time, and when a player on coverage slips past a block—at full speed—the impact is unpreventable. I saw some horrible injuries covering kicks in my career, and head injuries (and helmet-to-helmet contact) are on the list. Taking the three-man wedge out of the game does add protection to the coverage team and the three players forming that wedge, but there is nothing the league office can do to protect the returners. It can get really nasty out there and the collisions are like a car accident. A bad part of the game.
Follow me on Twitter: MattBowen41