December 27, 2010 -
Matt Bowen
Week 16 NFL notebook
Let's take a look around the NFL. Notes, opinions and some thoughts from the holiday weekend—with two more games to go to finish off Week 16.
Click here to read my Jets-Bears post game notes.
Click here to read my Giants-Packers post game notes.
Five things that stood out from Sunday…
1. Rodgers' numbers: Completely carved up the Giants' secondary. Hit Jordy Nelson between the safeties vs. 2-Man to start the day and continued to pick on the New York DBs—in both press and off-man coverage. 404-yards passing and 4 TDs.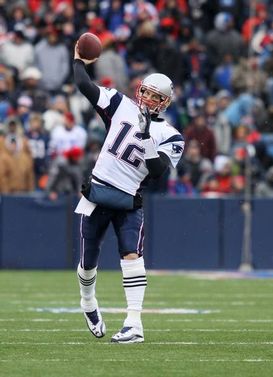 ICONBrady threw 3 more TDs in the 34-3 win at Buffalo on Sunday.
2. Three more TDs for Brady: In his last ten games, Tom Brady has throw 319 passes—with 24 TDs and zero picks. New England is the clear No.1 team in the league, and it starts with a QB who just doesn't make mistakes. Easy win for the Pats in Buffalo.
3. The Chiefs' offense: I expected a more physical Titans team to show up on Sunday, but again, the Chiefs and Charlie Weis' offense continued to make me question why I pick against them. Matt Cassel throws for 314-yards and 3 TDs while Kansas City rushes for 152-yards. Time for to start buying into the AFC West champs? I think so.
4. The lack of defense at Soldier Field: Both the Jets and the Bears will have interesting defensive meetings today. The Jets couldn't get to Jay Cutler in their pressure schemes and they didn't tackle well in the run game. For the Bears, Mark Sanchez picked them apart until the last couple of drives—where their secondary stepped up and started making plays.
5. San Diego bows out: Sunday's loss at Cincy is another example of why the Chargers aren't playoff ready. No question they have the talent (on both sides of the ball), but something is missing when Carson Palmer and the Bengals—minus T.O. and Ochocinco—beat you up in a game you have to win.
Game notes…
Green Bay's defense: Force six turnovers in a December football game that has playoff implications and you should head to the locker room with a win. This is the time of the year when we start speculating on the playoffs. And if Green Bay gets in, this defense can win game for them with this style of play. Give Rodgers a short field to work with and you will see a lot of points on the scoreboard.
The Colts running game: Check out this game plan from Indy. Peyton Manning throws for 179-yards with 3 TDs and 2 INTs. But, the key stat in the Colts running the ball 39 times in the road win at Oakland. That is December football in the NFL, because it doesn't always have to have a fantasy feel to it when it comes to numbers. And, to ensure the win, Manning runs a naked boot for 27-yards. I love that style of football with the playoffs right around the corner.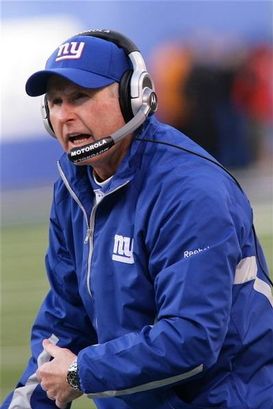 ICONWhere is the leadership on Tom Coughlin's team in New York?
The Giants' lack of leadership: Plenty of talk last week about Eli Manning addressing the team and acting like a leader. Only problem? He didn't play like it. It is one thing to call a player's only meeting (which I saw multiple times during my career), but how about showing that perceived leadership on Sundays? We can also include other veteran players for the Giants as well—because this team shut it down after the 4th quarter collapse against the Eagles in Week 16. Green Bay had every right to run that score up at the end of the game at Lambeau—because New York stopped playing. The way I see it, Couhglin has a team that lacks any sense of leadership.
Don't forget about the Ravens: Baltimore might finish the season with 12 wins—and go on the road during wild card weekend. When I start to break down the projected AFC playoff teams, Baltimore is the one squad that I believe matches up the best with New England. Great O-Line play in the run game, a QB with playoff experience and a defense that can still make plays on the ball. They will be a tough out.
Cutler: It has taken time under Mike Martz, but I see a QB in Chicago that has total control of the offense. I will agree that the INT he threw yesterday was a poor throw, but when you watch Cutler under center, he is playing with confidence and is making the necessary plays to win games. Not often that we talk about the offense outplaying the defense for the Bears—but that is what happened in the win over the Jets.
QB talk in Miami:
Now that Carolina has locked up the top spot in the April draft—and will likely target a QB—who is next in line? I missed on Chad Henne back in August when I talked big about the Dolphins, and it wouldn't surprise me to see Miami invest in a top college prospect this spring. I still see the raw talent with the former Michigan QB, but decision making is so big at the NFL level—and Henne just isn't there yet.
Going back to Saturday night: I don't know how many of you got to catch the end of the Cardinals-Cowboys game on Christmas night, but both rookie QBs—Stephen McGee of Dallas and John Skelton of Arizona—made veteran plays in the two minute situation to end the game. Doesn't sound like much in a throw away game, but when you are a young QB everything counts. Good things to put on tape for offseason roster evaluations—which are coming quickly for plenty of teams.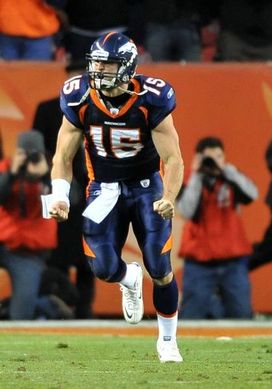 ICONTebow threw for over 300-yards in his first career win for the Broncos.
Tebow time: Again, let's not start planning parades for the rookie QB just yet, but he did just throw for 300-yards plus in his first win as an NFL starter. As I wrote about last week, the key for Tebow—or any young QB—is to see progress in his development. Quicker reads that challenge the secondary, control of the offense and a more advanced call sheet heading into each week. That's what we saw from Tebow on Sunday. Part of his development.
The NFC West: The NFL has "flexed' Sunday night's Rams-Seahawks game to Sunday night on NBC. It is for the division title and a playoff spot—one that gets to host a homer game on wild card weekend. My early money on the Rams, because I just can't trust Pete Carroll's team right now. Can you?
Singletary's last stand: Time to go Mike. We all knew this was coming. It hurts to say that as a fan of the '85 Bears, but this San Fran team has found multiple ways to lose games, looks disorganized every week and yesterday—along with the 4th quarter QB switch—was enough. Time to find a coach that bring this talent together for the 49ers. And, we could be saying the same thing in Houston and San Diego as well.
Bears-Packers in Week 17: This is football. Having played for Green Bay and now living in Chicago, the hype surround ing this game will be huge. The Packers get into the post-season tournament with a win and the Bears are still playing for a first round bye. Cutler vs. Rodgers. Urlacher, Clay Matthews, Peppers, Woodson, etc. at Lambeau. I know both Green Bay and Chicago fans wanted this game to have meaning—and now it does.
One final shot…
Saw that the Ravens' Ed Reed got a little too close to the sideline heaters yesterday at Cleveland and there was some smoke. How hot are they? I played in a game where our punt returner (whose name I won't disclose) couldn't go out on the field—because his gloves had melted together. I still laugh when I think about that.
Check back to the NFP later today for some Saints-Falcons Monday night football talk.
Follow me on Twitter: MattBowen41