September 24, 2010 -
Matt Bowen
Week 3 NFL tip sheet
Let's start talking about the Week 3 NFL action. A tip sheet to get you ready: personnel, notes, game plans, matchups and more.
Players to watch…
Brett Favre, Vikings: Need to see some production from the Vikings' QB. Looked uncomfortable in the second half of the Week 1 loss to the Saints and was accountable for four turnovers this past Sunday. The Vikings need more than just A.P. to beat Detroit.
Chris Johnson, Titans: Johnson was held to 34-yards on 16 carries in the loss to Pittsburgh—and that directly impacts Vince Young and the play action passing game.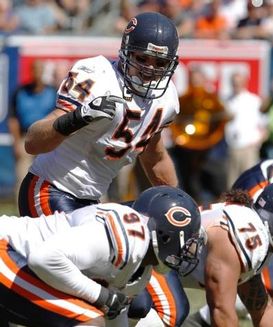 ICONThe Bears' Brian Urlacher.
Brian Urlacher, Bears: The middle linebacker is shedding blocks and making plays in the run game. The Bears' front seven is legit.
Michael Vick, Eagles: Just like last week, we need to see what Vick does in the pocket. We all know he has the ability to make plays with his feet and escape pressure, but this offense under Andy Reid is at its best when the QB can step up, keep his eyes down the field and make the throw. Vick is playing good football right now.
Dexter McCluster, Chiefs: Didn't have many touches on offense last week in the Chiefs win over the Browns. Got to get this rookie more involved in the offensive game plan because he can flip the field.
Ricky Williams/ Ronnie Brown, Dolphins: Rex Ryan struggled against the Wildcat last season. In Miami, we will see the base running game out of this package, and no one does it better than the Dolphins.
Clay Matthews, Packers: Six sacks in two weeks. Chicago has to slide the protection to Matthews or use the running back in scan protection to limit his abilities off of the edge.
My Top Five Teams...
1. New Orleans
2. Pittsburgh
3. Indianapolis
4. Green Bay
5. Miami
Pregame Notes…
Freeman vs. Pittsburgh: I have been impressed with Tampa QB Josh Freeman after two weeks—and the Bucs are 2-0. Big test against the Pittsburgh defense on Sunday. Tough for a young quarterback to read coverages at the line of scrimmage due to the amount of different looks he will see from Dick LeBeau's scheme. Easy to throw the ball into coverage against the Steelers.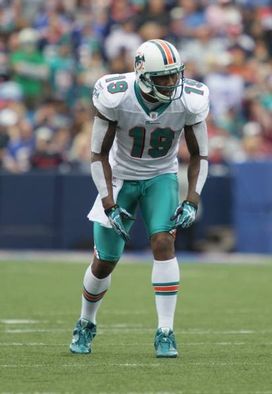 ICONBrandon Marshall could draw the Jets' Antonio Cromartie on Sunday night.
No Revis: The Jets' Darrelle Revis isn't expected to play, and if that holds true, look for Miami to take advantage of the Brandon Marshall-Antonio Cromarite matchup. From what I have seen this season, Cromartie can get too tall in his backpedal and will lose his technique after the receiver starts his release. Also, we know he is a CB that will take chances and jump routes. Perfect matchup to exploit with double-moves. Miami can get a big play early with Marshall.
Saints vs. the Falcons' running game: Saw the defensive issues for the New Orleans' front seven in the win over the Niners. Frank Gore went for 112-yards and Gregg Williams defense couldn't get off of blocks in the downhill power game. Atlanta has studied that tape all week, and the Saints should expect a game plan from the Falcons' that is centered on the Lead Strong, Lead Open and Power O.
Dallas in the red zone: The Cowboys have had scoring opportunities through the first two weeks, but Tony Romo and this offense has to start putting the ball in the end zone. How do you do that? Use Felix Jones, Marion Barber and Tashard Choice inside of the 20-yard line. Too much drop back passing right now in Jason Garrett's playbook down in Dallas.
The loss of Kevin Faulk: The Faulk injury is big because he is such an accountable player when we talk about the different roles he plays in this offense. One thing to keep an eye on is how it impacts personnel groupings in New England. The Pats are one of the rare teams that will change personnel routinely throughout a drive—and Faulk was a major part of that.
X's and O's…
Bernard Berrian: Have to find a way to stretch the field for the Vikings. Berrian is a true deep ball player. Get him involved running the 9 (fade), 8 (post) and the 7 (flag). If I am Brad Childress, I make sure that Berrian gets two deep ball opportunities per half.
Indy's game plan: Do we see the Colts running the ball again on Sunday vs. the Broncos? Indy gashed the Giants using their one-back runs out of Ace (2 WR, 2 TE, 1 RB) and Posse (3 WR, 1 TE, 1 RB) personnel. Even with Peyton Manning, the Colts are a tougher matchup when they have balance on offense.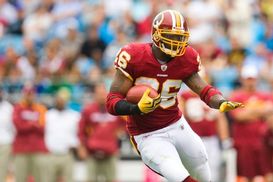 ICONPortis hasn't been productive in Shanahan's system.
The Skins' ground game: Need to see some production out of Clinton Portis and the Redskins in the running game at St. Louis. Mike Shanahan's scheme is built to give the running back cut back lanes with the inside and outside zone. C.P. has good vision, so what's the deal?
Saints' game plan: What do we see from Sean Payton and New Orleans on offense without RB Reggie Bush? He is a big part of their screen package, so expect Payton to get creative and use more TE screens and the WR smoke screen.
Capers' scheme: Very interested to see how Packers' defensive coordinator attacks the Chicago offense early on Monday night. After watching that Bears-Cowboys tape, it would make sense for Green Bay to play some man-pressure schemes early and try to confuse the Bears up front—allowing free runners to the QB.
Three new starters at QB to watch…
- Carolina: Jimmy Clausen (vs. Cincinnati)
- Buffalo: Ryan Fitzpatrick (at New England)
- Oakland: Bruce Gradkowski (at Arizona)
Some quick hits…
- How do the Bears matchup with Packers' TE Jermichael Finley when they play their Cover 1 schemes. SS Danieal Manning vs. Finley is a matchup that favors Green Bay.
- Can we see more from C.J. Spiller in Buffalo?
- There should be some pressure on Titans' QB Vince Young after getting the hook from head coach Jeff Fisher against the Steelers. You don't see that in Week 2 of the regular season.
- Steelers' safety Troy Polamalu is playing at such a high level. Is it too early to call him the favorite for DPOY? You tell me…
Follow me on Twitter: MattBowen41
Want to work in the NFL? Click here to register for the NFP "Chalk Talk" seminar in Chicago on October 22nd.