October 08, 2010 -
Matt Bowen
Week 5 NFL tip sheet
Let's get you set for the Week 5 action in the NFL. Personnel, notes, my top teams and weekend picks...
Personnel to watch…
Randy Moss/ Brett Favre, Vikings: First chance to see what these two can do together on the field Monday night against the Jets. The Vikings need to see some production out of their vertical passing game. Minnesota should get Moss involved in the game plan early.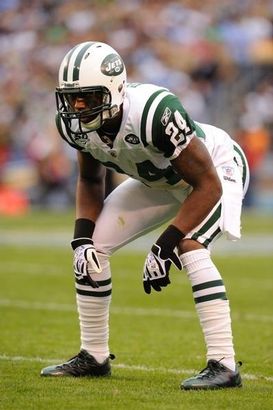 ICONRevis is expected back in the lineup for the Jets on Monday night.
Darrelle Revis, Jets: Comes back from the hamstring issue. How explosive is the Jets' CB in his plant and drive and can he shut down Moss on Monday night? Love this matchup between two top tier players.
Todd Collins, Bears: Chicago made the right call shutting down QB Jay Cutler after the concussion Sunday night, but what do we expect to see from Collins? If I am Mike Martz, I start to limit those 7-step drops and multiple breaking routes. Use Collins in the 3-step passing game and find a way to help him with production out of the backfield.
Chris Johnson, Titans: When Johnson struggles to produce numbers the Titans are just an average football team. That is what happens when your entire offensive scheme runs through one player in the NFL.
Ryan Torain, Redskins: With Portis out, Torain steps into the No.1 role in Washington. I was impressed by his power at the point of contact against the Eagles, and when Mike Shanahan can run the ball in his system, the entire playbook opens up.
The Bears' O-Line: We will know early in the game if they made the proper corrections after the beating in New York. Martz can help out as well by altering that game plan.
Kevin Kolb, Eagles: The Eagles—without Michael Vick at QB—are a standard west coat system under Andy Reid. That still sells if Kolb can move the ball and find a way to get DeSean Jackson involved down the field.
My Top 5 Teams
1. Baltimore
2. Pittsburgh
3. New Orleans
4. N.Y. Jets
5. New England
Notes…
Carolina: No Steve Smith at WR is really going to limit the options for rookie QB Jimmy Clausen against the Bears Cover 2 defense. Expect plenty of handoffs to RBs DeAngelo Williams and Jonathan Stewart—forcing the Bears to play some Cover 1 and Cover 3, bringing that strong safety down into the box. Don't want your rookie QB in 3rd and long situations against a defense dropping seven into coverage.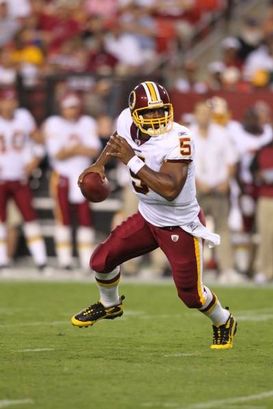 ICONThe Packers should expect plenty of play action from McNabb and the 'Skins.
Green Bay: Playing against a Shanahan offense requires you to trust your run/pass keys as a defender. The amount of boots and play action can force you to step towards the line of scrimmage and give up a big play. Film study is crucial when you play the Redskins—and they will target the Packers' secondary in their multiple movement passes.
Denver: Find a way to run the ball. I have been impressed with the play of QB Kyle Orton, but against a heavy pressure team in Baltimore, sitting back in the gun all afternoon isn't enough. Install and execute those one-back runs out of the offensive sub packages. Got to have it against Ray Lewis and the Ravens.
New Orleans: Rookie QB, Max Hall, making his first start against a Gregg Williams defense? Expect to see multiple fronts in the Saints' base defensive packages, and when the Cards' do use their three-wide receiver sets, look for a Williams to use his zone blitz schemes to bait the rookie into throwing one to the defense.
San Francisco: Second chance for new offensive coordinator Mike Johnson to make some changes on a national stage vs. the Eagles. The Niners have talent at every skill position, but we need to see the production on the field. Expect to see more of TE Vernon Davis aligned out of position. He should be featured in this offense.
Kansas City: Excited to see what Charlie Weis has planned for Indy's Tampa 2 defense. You can expose a zone defense when you get creative with a player like Dexter McCluster, but I don't see any reason why Weis won't feature Thomas Jones and Jamal Charles against the Colts' front seven. Slow down DEs Dwight Freeney and Rashard Mathis and keep Payton Manning off of the field.
My Week 5 NFL picks…
Baltimore over Denver
Jacksonville over Buffalo
Chicago over Carolina
Cincinnati over Tampa
Atlanta over Cleveland
Detroit over St. Louis
NY Giants over Houston
Indianapolis over Kansas City
Washington over Green Bay
New Orleans over Arizona
Dallas over Tennessee
San Diego over Oakland
San Francisco over Philadelphia
Monday Night
N.Y. Jets over Minnesota
Extra points…
- I don't see Arian Foster slowing down any time soon. His running style reminds me of Eddie George.
- Watching the Bears through four games you forget that Chester Taylor was signed this offseason and given good money up front. Time to get him involved.
- No one is giving the 3-0 Chiefs much credit. That changes if they go into Indy and play well.
- Watch Jason Garrett's play calling down in Dallas on Sunday. A much more balanced attack was the reason they were able to handle Houston.
- This is the time of the season when we start to see more injuries—and the Packers have some big ones right now.
- The Niners can't drop to 0-5...can they?
Follow me on Twitter: MattBowen41
Want to work in the NFL? Click here to register for the NFP's "Chalk Talk" seminar in Chicago on October 22nd.