October 11, 2010 -
Matt Bowen
Week 5 post game notebook
Let's look back at the Week 5 Sunday action in the NFL…
What stood out…
1. The Saints' issues: Couldn't have predicated an Arizona win over New Orleans, but are we starting to see just how important the running game is to Drew Brees and this offense? When Reggie Bush went down with an injury, this offense lost that dynamic ability of a player that could be used creatively and moved around in terms of pre-snap alignment. But, with Thomas out, the Saints lose their downhill running game and a major part of their screen and draw package. And, it is showing in their offensive production.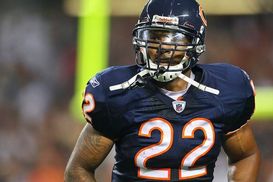 ICONChicago's Matt Forte.
2. The Bears find a running game: This is good for Chicago. Forget about Todd Collins (4 INTs) for a moment. The Bears made adjustments to their offensive game plan and started to use their Ace personnel (2 WR, 2 TE, 1 RB) to run the ball. The Counter OF, Power O and the toss out of a two-back look with TE Greg Olsen in the backfield and the stretch and outside zone in their one-back packages. The QB play? Atrocious. But, the way the Bears play defensive, running the football is going to lead to wins. Matt Forte goes for 166-yards and 2 TDs and the Bears rush for 200-plus as a team. That's big for Martz and this offense.
3. Chargers' special teams: Bad fundamental football. It started two weeks ago in the loss to Seattle when the San Diego coverage unit gave up to kick-off returns for TDs. Bad tacking and players not getting off of blocks. Yesterday? Two blocked punts. And, we aren't talking about exotic rush schemes. Allow inside penetration—no different than pass protection—and you will give up a big play. Tuesdays should be big for the Chargers—the day you bring in players off of the street for workouts. Time to find some special teams players who show up on Sunday
4. Josh Freeman: I'm impressed with Tampa QB Josh Freeman. Makes two big plays in the fourth quarter—on the road. The 9 (fade) route to rookie Mike Williams where he gives his receiver a chance to make a play, and the deep out to set up the winning field goal. On the day: 20-33-280-1 TD-1 INT. Young QB playing solid football. Now, let's see him continue to do it and keep Tampa involved in the NFC South. This is a 3-1 football team.
5. 1-3 Cowboys: Turning the ball over, getting gashed on defense in the run game by Chris Johnson and giving up a big play on special teams in a crucial moment—at home. Look at the numbers: Dallas produces over 500-yards of total offense. Should be a win? Not when you can't make plays in the 4th quarter. Dallas is 1-3 despite a roster that is loaded with talent. Very undisciplined right now.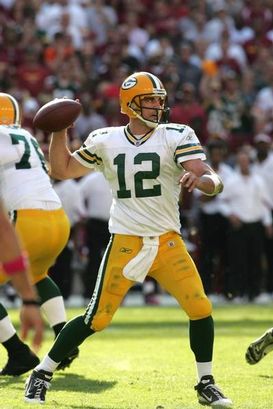 ICONRodgers' INT in overtime set up the winning FG for the Redskins.
6. Rodgers' overtime INT: Let's break this play down. The Packers line up with all four receivers inside of the numbers in a 2x2 look out of double stacks. With the Redskins' playing 2-Man (trail-man underneath), Green Bay has the right play call here: Flat/ 7 (flag). Both the 7 and the Flat are outside breaking routes that are run away from the defender's leverage—but this comes down to ball placement. Thrown to the up field shoulder and this is a completion and a big gain. Thrown inside—as we saw from Rodgers—and LaRon Landry can drive downhill and make a play. Sets up the winning field goal for the 3-2 'Skins.
7. Physical Ravens: That is the type of game plan I like to see from the Ravens. 47 total carries as an offense for 233-yards and 4 TDs. Baltimore physically whipped the Broncos up front. There is a difference between AFC North football and AFC West football. You can see it at the line of scrimmage and it shows in the box score—and on the tape. Had to be tough for the Broncos to get on that plane after they got beat at the point of attack all game long.
8. The Giants' turnaround: We can talk about WR Hakeem Nicks—who is quickly becoming a weapon in the red zone—but these last two wins have been about defense. Defensive coordinator Perry Fewell is getting that front four rush, playing Cover 2 and showing pressure. They are tackling well in the run game and their secondary is competing on throws down the field. This isn't a complex, exotic scheme in New York under Fewell. But it becomes a top defense when they can limit the production in the run game and play coverage on third downs—where they held Houston to 2-11. That wins.
9. The 0-5 Niners: Again, 4th quarter mistakes. We can sit here and talk about the Niners as a team that has the talent to win the NFC West, but we see the same consistent mistakes every week. Alex Smith made some plays, but gave up a fumble that led to a TD and ends up throwing a pick on the final drive. Frank Gore puts the ball on the ground twice. How do you expect to win on Sundays doing that? Mike Singletary's team has issues—and they might be done for 2010.
10. More Packers' injuries: Teams can work though injuries—but this is another blow to the Packers. OLB Clay Matthew now out with a hamstring. TE Jermichael Finley out with a knee. These are two key players when we talk about matchups and overall impact to this Green Bay team. Tough to game plan for and tough to account for in certain situations. Interested to see how the Packers work though another week of injuries.
Game balls to hand out…
LaRon Landry, Washington: 13 tackles and the big INT in overtime. He is all over the field and fills the hole in the run game.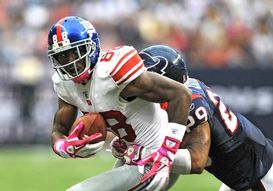 ICON130-yards and 2 TDs for Nicks.
Hakeem Nicks, NY Giants: 12 receptions for 130-yards and 2 TDs. Becoming the top target in the red zone for Eli Manning.
Matt Forte, Chicago: 166-yards and 2 TDs in a Mike Martz offense deservers a game ball. Gives the Bears' a different look on tape.
Ray Rice, Baltimore: 27 carries for 133-yards and 2 TDs. Looked healthy—and physical.
Chris Johnson, Tennessee: 19-131-2 TDs. That always wins for the Titans.
Extra points…
- Bad QB play yesterday. Peyton Manning, Drew Brees, Matt Schaub, etc. Not what we are used to seeing.
- Atlanta moves to 4-1. A quiet 4-1. Basic game plan: use the run game to set up QB Matt Ryan down the field in the play action game. But, don't forget about that defense. They are stopping the run.
- That Chiefs defense is tough. Manning was flustered—that doesn't happen often.
- I don't know how good 'Zona QB Max Hall will be in the NFL, but I became a fan after he came back after that goal line hit he took.
- How big is Chris Johnson to the Titans' offense? Without his production they are just another team.
- Did we over-hype the Texans after the hot start?
- The Rams laid down on the road. Beat on special teams and in the secondary. Wanted to see that third straight win from Sam Bradford and St. Louis. But that looked like a young, inexperienced team again yesterday in Detroit.
- Kevin Kolb? 21-31-253-1 TD. Those are good numbers in a west coast offense.
- Another good day for Jacksonville QB David Garrard for the 3-2 Jags. 16-20 for 178 yards and 3 TDs.
Follow me on Twitter: MattBowen41
Want to work in the NFL? Click here to register for the NFP's "Chalk Talk" seminar in Chicago on October 22nd.