October 15, 2010 -
Matt Bowen
Week 6 NFL tip sheet
Let's get you ready for the Week 6 NFL action. Notes, my top teams, personnel and all of my NFL picks for the weekend.
Personnel to watch….
LaRon Landry, Redskins: The Washington safety is playing top tier football. Has to be a factor Sunday night against the Colts' standard routes: 7 (flag), deep dig, 8 (post) and four verticals.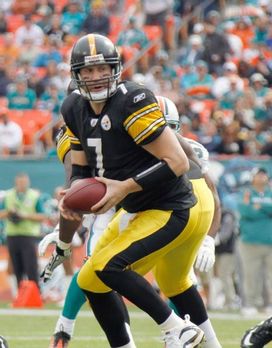 ICONRoethlisberger is back in the lineup this Sunday.
Ben Roethlisberger, Steelers: Makes his season debut Sunday at home vs. the Browns. Keep an eye on his pocket awareness and his throws in the short to intermediate passing game—because those are based on timing with the wide receivers.
Randy Moss, Vikings: Was strictly a deep ball guy on Monday night in the loss to the Jets. Ran the 9 (fade) route vs. press-man coverage for the majority of the game. Should be more involved in the route tree of the Vikings' offense against the Cowboys.
Marshawn Lynch, Seahawks: First game for Lynch on Pete Carroll's roster after the trade. How involved is he in the Seattle game plan and what type of production should we expect against a top ten defense in Chicago?
Jason Campbell, Raiders: Campbell will get the start this Sunday against the Niners. Made some plays coming off the bench last week after the Bruce Gradkowski injury and has another opporunity to take that job back.
Brett Favre, Vikings: Have to throw Favre in the mix because of the eblow injury. Plenty of talk right now on what type of impact that could have on Sunday.
My Top 5 Teams…
1. Baltimore
2. N.Y. Jets
3. Pittsburgh
4. New England
5. New Orleans
Pregame notes…
Miami: Was big on Miami in the preseason (picked them to win the Super Bowl) and still see them as a team that can challenge in the AFC East, but we have to see a larger effort to keep the ball in the hands of Ronnie Brown and Ricky Williams up at Lambeau. Understand the impact that WR Brandon Marshall can have on a game, however, use Brown and Williams to set up that vertical passing game.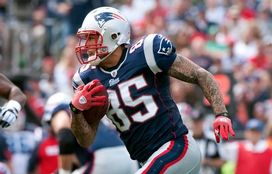 ICONThe Patriots' Aaron Hernandez.
New England: First game without Randy Moss at WR. Look for TE Aaron Hernandez to become the third WR in their base Ace personnel (2 WR, 2 TE, 1 RB) removed from the core of the formation. Very similar to what we see with Dallas Clark and the Colts in Indy. The rookie from Florida has great lateral ability in the open field and should be a matchup issue for the Ravens.
Kansas City: Need to see more from QB Matt Cassel. I like this Chiefs team, but they need more production from the QB position to become a real player in the AFC. Second straight road game against good competition, as they ravel to Houston.
Chicago: QB Jay Cutler in back in the lineup for the Bears, and now I am interested to see how Mike Martz game plans for Seattle. Tough to take the ball out of RB Matt Forte's hands after his numbers last week in the win at Carolina (168-yards rushing). Do we see more downhill runs from Martz, or are we back to the 7-step drops and the multiple breaking routes?
Cleveland: Rookie QB Colt McCoy is expected to make his first pro start—on the road in Pittsburgh. The Browns need to script a call sheet that is heavy on the run game and the 3-step passing route tree. McCoy needs to get the ball out of his hands early. Tough for a rookie QB to understand the multiple looks for the Steelers' defense. A heavy zone blitz team that will drop players into throwing lanes. Film study is big for McCoy.
Washington: Always a priority to stop the Colts' four-man pressure in their base Tampa 2 defense. Tough with a standard drop back passing game. In Washington, we should see more movmement passes in Shanahan's offense that get QB Donovan McNabb on the move in the boot, sprint and dash action. Have to find a way to give rookie LT Trent Williams help on Indy DE Dwight Freeney—and getting the QB out of the pocket is a good start.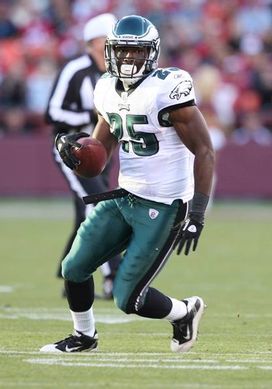 ICONThe Eagles and LeSean McCoy host the Falcons on Sunday at the Linc.
Philadelphia: There is always talk about the Eagles' QBs, but I am going to focus on RB LeSean McCoy when Philly hosts Atlanta in one of the most underrated games of the weekend. McCoy played hurt on Sunday night, but he hit the hole with speed and ended up with 92-yards and a TD. Impressive when you are playing with busted ribs. Andy Reid needs to continue to run the ball.
Baltimore: I do see a matchup advantage with WR Anquan Boldin against the Pats' secondary. Look for him to align in a variety of positions within the Baltimore offensive scheme. Needs to be big in 3rd and medium situations and after the catch once he gets into the open field.
New Orleans: The Saints looked slow offensively in the loss to Arizona. I'm still sold that this is the best overall football team in the NFC, but with the injuries to RBs Reggie Bush and Pierre Thomas they look vulnerable heading into Week 6.
Dallas: QB Tony Romo is going to see Cover 2 from the Vikings' defense all afternoon up in the Metrodome unless the Cowboys can force Minnesota to bring that safety down in to the run front. Dallas has good matchups outside the numbers against the Vikings' CBs, but have to see some man-coverage, Cover 3 or any single-high safety defense to exploit those matchups. Jason Garrett needs to drop the pass-happy game plan and use that balance that we saw in the lone Cowboys' win at Houston.
Week 6 NFL picks…
Chicago over Seattle
Miami over Green Bay
Houston over Kansas City
Baltimore over New England
N.Y. Giants over Detroit
Philadelphia over Atlanta
Pittsburgh over Cleveland
San Diego over St. Louis
New Orleans over Tampa
N.Y. Jets over Denver
San Francisco over Oakland
Minnesota over Dallas
Indianapolis over Washington
Monday Night
Tennessee over Jacksonville
Must see games…
1. Dallas at Minnesota
Loser drops to 1-4. That is a tough hole to climb out of when we talk about competing for a playoff spot.
2. Miami at Green Bay
Tough to win at Lambeau—even against a short handed Packers' team.
3. Indianapolis at Washington
Peyton Manning in primetime against a defense that I see as undervalued in the NFL talk.
Follow me on Twitter: MattBowen41
Want to work in the NFL? Click here to register for the NFP's "Chalk Talk" seminar in Chicago on October 22nd.