October 17, 2010 -
Matt Bowen
Week 6 post game notes: early kickoffs
Some quick notes from the early kickoffs around the NFL…
Mike Williams, Seattle: The Seahawks' WR became a matchup issue for the Chicago secondary all game. Didn't matter if Lovie Smith played Cover 2, Cover 1 or used his zone pressures—Williams made plays. Ate up Bears' CB Charles Tillman in man coverage. 10 receptions for 123-yards.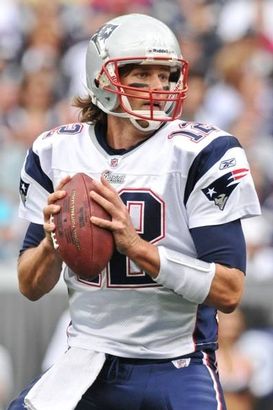 ICONBrady and the Pats take down the Ravens in OT.
Big Patriots' win: A team win. Best way to say it. Didn't expect to see good numbers against the Ravens' defense, and with questions surrounding how the Pats would respond without Randy Moss, QB Tom Brady completed passes to six different players—with new WR Deion Branch catching 9 balls for 98-yards and a TD. A committee approach at the running back position and a defense that played big on third downs.
Roethlisberger's return: Threw the early pick in the red zone, leaving the ball behind the receiver, but ends up throwing 3 TDs in the Steelers' win. That's impressive for a guy who spent four weeks away from the facility.
Miami-Green Bay: The Dolphins looked like the more physical team on both sides of the ball up front. DE Cameron Wake was a matchup issue for Packers' rookie OT Bryan Bulaga and when Miami lined up in the "I formation" on offense, they were able to get downhill in the Power O, Lead Strong and Lead Open. The Dolphins sack Aaron Rodgers' five times and run for 150-yards as an offense.
Brees/ Saints: This is the New Orleans offense that we are accustomed to seeing. The Saints physically beat Tampa up front, rushed for 212-yards and that leads directly into Drew Brees and the vertical passing game. The Saints' QB throws 3 TDs in a route of Tampa—which should answer some questions about the Bucs.
Kevin Kolb, Eagles: Going to be some tough decisions for Andy Reid this week after QB Kevin Kolb went out and got his second win in a row. Can you really sit Kevin Kolb right now after seeing him go 23-29 for 326-yards and 3 TDs? Looks very comfortable in that Eagles' huddle.
Bounce back game for Bradford: This is a great sign for Rams' fans. You wanted to see how rookie QB Sam Bradford came back after the loss at Detroit. Goes 18-31 for 198-yards an a TD. Not glamorous numbers, but numbers that reflect a QB who understood the game plan and the importance of protecting the football. Have to give Bradford credit for his quick development as a pro QB.
Matt Cassel, Chiefs: Didn't get the win, but Kansas City can look at the play of their QB as a positive. 20-29 for 201-yards and 3 TDs—one of the TD passes coming on a skinny post route that was perfectly thrown. Best production of the season.
ICONThe Texans' Andre Johnson.
Andre Johnson's game winner: Great coaching point. A route is never finished in the end zone, and when defensive backs turn to look at the QB they will often times lose the receiver. When Matt Schaub keeps the play alive, Johnson can work the back line of the end zone. As a defensive back, you almost have to defend this like a basketball player would in the post. Play your man in coverage—not the QB. Schaub (25-33-305-2 TD) plays big as the Texans score 21 fourth quarter points.
Bears' protection issues: Will get into this more in my "Winner and Losers" post tomorrow morning here at the NFP, but once again, Jay Cutler was not able to set his feet in the pocket. This time? Edge pressure. The Chicago O-Line looked lost.
Giants: Don't sleep on the Giants. That's three-straight wins. This team is starting to run the ball on offense with Ahmad Bradshaw and that front-seven is stopping the run on defense. Pretty basic theory, but it works in the NFC.
Follow me on Twitter: MattBowen41