October 17, 2010 -
Matt Bowen
Week 6 post game notes: late afternoon kickoffs
Let's check out some quick game notes from the today's late afternoon kickoffs…
Click here to read my notes from the early kickoffs.
Minnesota/ Dallas: Will get more into this game in a moment, but how about the atmosphere for Week 6 of the regular season? Felt like I was watching a wild card playoff game—and that could have been an elimination game for the 1-4 Cowboys.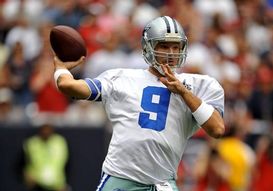 ICONThe 'Boys are in trouble at 1-4.
More penalties/ turnovers: Nothing new for Wade Phillips' team. 10 total penalties, two INTs from QB Tony Romo and sloppy tackling on special teams. Can't come out of the locker room and give up a score in the kicking game to open the second half. That's on the coaching staff.
Adrian Peterson: Didn't have big numbers, but that was the game plan today. Work Randy Moss more into the passing game, but limit Favre (plus his injured elbow) and run the offense through A.P. 24 carries, 73-yards and a TD. Has to be the most valuable player in the game once the ball is inside the 10-yard line.
Questionable 3rd down call: 4th quarter, game tied at 21 and the Cowboys facing a 3rd and 1 situation. You would think Marion Barber on the Power 0, or even Felix Jones on the RB flip play if you want to get creative—but the Cowboys threw the ball on play action. Big time play by Vikings' LB E.J. Henderson dropping into the throwing lane. But, like we have talked about all season long with the Cowboys—crucial mistakes in big situations of the football game.
5-1 Jets: Wasn't easy and never is on the road in Denver. QB Mark Sanchez throws his first two picks of the season and they have to get a pass interference call on a 4th down situation under two-minutes to set up the winning TD run by LaDainian Tomlinson. However, I am impressed with any team that can go on the road after playing a Monday night game and get on that plane with a win.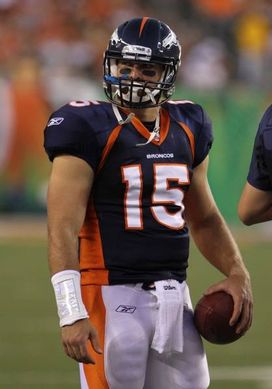 ICONTebow saw his first extensive action of the season for the Broncos.
Tebow sighting: Finally saw some of rookie QB Tim Tebow in the Broncos' offense. A specific personnel package (similar to what we saw at Florida) designed to use mis-direction. A gadget package if that's what you want to call it. I think this is valuable to the Broncos in the red zone (where Tebow ran for a 5-yard TD), but there needs to some pass options installed for the rookie QB—or defenses will figure out a way to shut this down within a week.
Niners: Isn't this the 49ers team that we expected to see? Not pretty, but they grind it out on the ground with RB Frank Gore (25-149), force turnovers and QB Alex Smith makes a play in the fourth quarter to close out a ball game. Only thing we have to mention about Mike Singletary's team: more penalties. 11 for 143-yards. Might work against the Raiders, but that has to be cleaned up.
Jason Campbell: Wanted to see my former teammate in Washington win that QB job in Oakland with another win, but 8-21 for 83 yards and 2 picks isn't going to get it done. Finishes with a QB rating of 10.7. Ugly day…
Demaryius Thomas, Broncos: How about the rookie WR from Georgia Tech beating Jets' CB Darrelle Revis on a basic fade route in the red zone for a TD? Wins at the line of scrimmage vs. press-man coverage, goes up and gets the football at the high point. That's a big highlight for a rook against the best CB in the league.
Follow me on Twitter: MattBowen41