October 18, 2010 -
Matt Bowen
Week 6 winners and losers
Let's take some time this morning to talk about the "winners" and the "losers" from the Week 6 Sunday action in the NFL…
Click here to read my game notes from Sunday's early kickoffs.
Click here to read my game notes from Sunday's late afternoon kickoffs.
Week 6 Winners
1. Ben Roethlisberger: 3 TD passes after a four week suspension. We need to understand how impressive that is when we talk about a player who didn't throw to his receivers, practice or even sit in on meetings while he was away from the facility. Timing, pocket awareness and just an overall rhythm within the offense. I expected that to be an issue, and for Roethlisberger to have average numbers in his return. But, he goes 16-27 for 257-yards and the one early INT when he missed in the red zone. Brings the vertical passing game back to his offense and now we are looking at a 4-1 team that has all of their weapons in uniform—and primed for a run.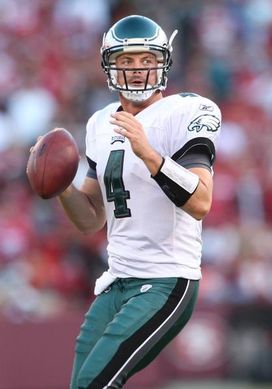 ICONCan Reid sit Kolb after two stright wins?
2. Kevin Kolb: Don't want QB controversies in the middle of the NFL season, but that is exactly what Andy Reid and the Eagles have after Kolb threw for 326-yards and 3 TDs on 23-29 passing in the win over Atlanta. The question now for Reid: is it Kolb or Michael Vick next Sunday? The way I look at it, this is no different than the QB situation we saw earlier this season in Philly. With Vick in street clothes, his job was up for sale. Does Vick bring some more excitement to the offense? Probably, but you can't give the hook to a guy who has just won two straight games, is getting the ball down the field in the vertical passing game and is running the west coast system at a high level. I stick with Kolb if I am Andy Reid.
3. The Patriots: Have to mention the Pats after they just beat what I view as the best team in football in the Baltimore Ravens—without Randy Moss. I questioned the move to trade Moss (the league's best deep threat) in the middle of the season—as did others—but we saw Deion Branch, Wes Welker, Aaron Hernandez and Danny Woodhead all take more prominent roles in the passing game. Did Brady have big numbers? Not really, but all that matters in a game that takes on a playoff atmosphere in October is points and key plays in crucial situations of the game. New England had those—and they rolled up 394-total yards against a nasty defense.
4. Pete Carroll: Talk about it all of the time. Teams coming off of the bye week should have the ideal game plan for their next opponent. And Carroll did. Offensively, they challenged the Bears' Cover 2 scheme, put pressure on the safeties and used newly acquired RB Marshawn Lynch to test the edge of the defense and use the two-back power game. Defensively, the multiple looks, edge pressure and tackling led to six sacks of Chicago QB Jay Cutler and a Bears team that ended up going 0-12 on third downs. That is a big win on the road.
5. The Rams: We need to talk about Steve Spagnuolo's Rams. Leading up to this game, I wanted to know how a young team would respond after the wheels basically came of last week in a 41-6 loss on the road at Detroit. That type of game can bury an inexperienced team, but give them a lot of credit for getting back to work and putting together a solid game plan. I've been in that situation as a player, and it isn't easy after you get shut down to come back and play a good ball game the next week. But, Sam Bradford and the Rams did do exactly that against a San Diego team that looks a lot like a paper champion. Makes me think St. Louis will be around all season in the NFC West.
Week 6 Losers
1. The Cowboys: Plenty of issues when we talk about Wade Phillips' ball club down in Dallas, but just like San Diego, the mistakes in critical situations lead to losses. Two more INTs from Tony Romo (one coming on an awful play call in the fourth quarter), 10 total penalties and a special teams unit that gave away a TD to open the second half in the return game. We should be tired of hearing about total yards and the names on the roster, because at 1-4, there is a very good chance that Romo and the 'Boys are watching the playoffs with us this January.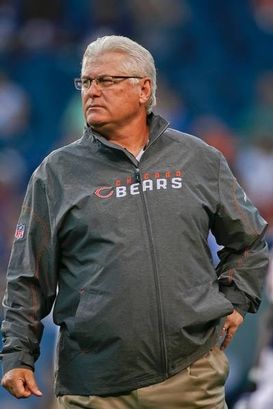 ICONMartz saw his offensive line fall apart again in a home loss to Seattle.
2. The Bears' offensive line: How would you like to be Jay Cutler right now? Every time you drop back to pass, there is a good chance you are going to end up on the ground. Forget beating up Mike Martz over his offensive scheme, because this falls on basic pass blocking principles. The Bears made numerous mistakes up front from their technique to their basic count in their protection schemes. Chicago has players in WRs Johnny Knox, Devin Hester and TE Greg Olsen to run their routes required in this offense. But, when you turn on the tape, all you will see is a unit that looks confused and makes simple mistakes we shouldn't see at the pro level.
3. Norv Turner: This team isn't easy to watch under Turner. Can talk all we want about bad special teams play in two of their losses this season, the penalties and the mistakes. But, to go on the road with the amount of talent the Chargers have and play like they should have stayed on the bus against a young, inexperienced Rams team is unacceptable. Got to start pointing that finger squarely at the head coach—because Turner does not have his team ready to play football right now on Sundays. San Diego is 2-4, and 0-4 on the road. Comes down to preparation.
4. The Tampa front seven: I wanted to buy into this young Tampa team. I like what Josh Freeman can do at the quarterback position and they have a defense that has been opportunistic in their three wins this season. But, the defensive front didn't show up in the 31-6 loss to the Saints at home. Coming into Sunday, New Orleans looked very vulnerable as an offense because of the injuries to Reggie Bush and Pierre Thomas. But, the Saints rush for a 212-yards as a team (6.6-yard per carry) and get 158 of those yards from rookie Chris Ivory—on 13 carries. The Bucs were sloppy in their run fits and didn't tackle well. Have to take advantage of a Saints team that is dealing with injuries if you want to be a player in the NFC South.
5. Helmet-to-Helmet hits: Throwing this in because someone is going to take a hit one Sunday and not get up. Patriots' safety Brandon Meriweather deliberately launched himself into Ravens' TE Todd Heap and, by now, everyone has seen the replay of the hit Falcons' CB Dunta Robinson put on Eagles' WR DeSean Jackson on the underneath crosser. As a former defensive player, I can tell you that players use their helmets as a weapon—which isn't going to change. But, with the amount of attention that is being given to head injuries by the NFL, the only option that I see right now is a possible automatic ejection—along with a big fine. Throw the player out of the game and hit his wallet if you want to clean this up.
Follow me on Twitte r: MattBowen41
Want to work in the NFL? Click here to register for the NFP's Chalk Talk seminar this Friday in Chicago.