October 22, 2010 -
Matt Bowen
Week 7 NFL tip sheet
Let's get you ready for the Week 7 NFL action. Personnel to watch, notes, my top teams and picks for every game on the schedule.
Personnel to watch…
Vince Young, Titans: Left the Monday night game early with a sprained knee. If he starts, I want to see how he moves Sunday against the Eagles. Can he escape pressure and slide in the pocket? Take away Young's mobility and we are looking at an average drop back passer. Not good against a defense in Philly that likes to pressure.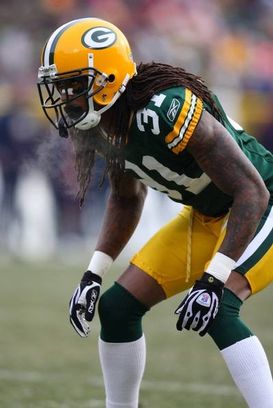 ICONHarris could return to the field for the Packers on Sunday night.
Al Harris, Packers: Might see Harris on the field this Sunday night in the Packers' defensive sub packages as an extra DB in passing situations. Nice option to have back when you can move Charles Woodson inside on 3rd downs. Could play a big role depending on the Vikings game plan.
Matt Moore, Panthers: I know Carolina is 0-5, but this is a big opportunity for Moore to get back under center against the 49ers. If he doesn't produce, the Panthers will be playing musical chairs at QB the rest of the season.
Brian Urlacher, Bears: The Chicago defense should expect plenty of misdirection and movement passes from Mike Shanahan's offense in Washington. In Chicago's Cover 2, the Mike backer has to be sound in his run/pass reads. Donovan McNabb wants to force Urlacher to the line of scrimmage with play action and throw the ball down the filed between the two deep safeties.
Vonte Davis, Dolphins: Gave up a big play to Packers' WR Greg Jennings last week, but I have been impressed with Davis this season. Interested to see if he draws the matchup of Steelers' WR Mike Wallace—a good matchup in the vertical passing game of the Pittsburgh offense.
My top 5 teams…
1. Pittsburgh Steelers
2. N.Y. Jets
3. New England Patriots
4. Baltimore Ravens
5. New Orleans Saints
Pregame notes…
Miami: Another good test for QB Chad Henne against the Steelers. Multiple looks and various zone blitz schemes. Has to protect the football and find a way to continue to use WR Devone Bess in third and medium situations. Pittsburgh is going to come after him.
Green Bay: Defeating the Vikings' Tampa 2 coverage. Know that is what you are going to see from Minnesota on third downs and in the red zone. QB Aaron Rodgers knows the routes that are effective and I would not be surprised to see Green Bay utilize the screen game to slow down that front four pressure led by DE Jared Allen.
Cincinnati: Center the game plan around RB Cedric Benson. Can't afford to drop to 2-4 on the season in the AFC North. WRs Terrell Owens and Chad Ochocinco might not like a game plan scripted around running the football, but until we see more consistency from QB Carson Palmer, the Bengals can win game like they did in '09: running the ball and playing defense under Mike Zimmer.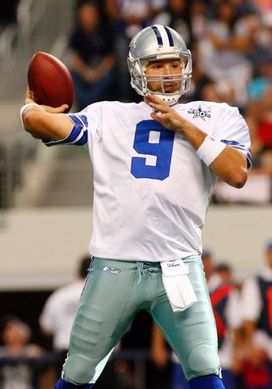 ICONWill the Cowboys have more balance to their offense vs. the Giants?
Dallas: Have to get the Giants defense under Perry Fewell in an eight-man front. Then last thing QB Tony Romo wants to see in passing situations is the Giants rushing four and dropping seven into coverage. We have talked about this all season with the Cowboys' offense, but once again, can there be a game plan that is balanced with the run and the pass? Without it, the Giants can sit in Cover 2, take away the deep ball, and force Romo to play the check down game. That won't win for Dallas on Monday night.
Denver: Do we see more of QB Tim Tebow? And do we see Broncos' head coach Josh McDaniels install some simple passing concepts to use in the offensive packages designed for Tebow? There isn't a reason to take QB Kyle Orton out of the game unless you have a solid set of plays that the Oakland defense hasn't seen on tape with Tebow in the huddle.
Chicago: After seeing what Seattle did to Chicago with pressure off the edge, why would 'Skins defensive coordinator Jim Haslett do anything different? No need to even mention Mike Martz's passing scheme when the Bears can't protect QB Jay Cutler. Had a week to make corrections—let's see what they came up with.
San Diego: Lose at home to Brady and the Pats, and Norv Turner's club is looking at a 2-5 start. If I am the Patriots, I target that punt protection in San Diego. Use some twist stunts and try to confuse the count system for the Chargers to get a free runner at the punter. Make San Diego adjust to the rush schemes until they show they can protect. Chance to get a big play early.
St. Louis: More Steven Jackson. After seeing Saints' rookie RB Chris Ivory thrash that Tampa run front last week, Jackson should be featured in the game plan. In return, it opens up the playbook for QB Sam Bradford when he is faced with third and short situations where can rely on the 3-step passing game to move the sticks.
New Orleans: Can they get FS Darren Sharper onto the field Sunday? Defensive coordinator Gregg Williams will use multiple packages to get extra defensive backs onto the field in all down and distance situations. This defenses misses Sharper's playmaking ability in the secondary.
My Week 7 picks...
Last week: 11-3 Overall: 21-7
Cincinnati over Atlanta
Baltimore over Buffalo
San Francisco over Carolina
Chicago over Washington
Kansas City over Jacksonville
Pittsburgh over Miami
New Orleans over Cleveland
Seattle over Arizona
St. Louis over Tampa
Philadelphia over Tennessee
Denver over Oakland
New England over San Diego
Green Bay over Minnesota
Monday Night
N.Y. Giants over Dallas
Follow me on Twitter: MattBowen41