October 29, 2010 -
Matt Bowen
Week 8 NFL tip sheet
Time to start talking about the Week 8 NFL action. Personnel, my top ten teams, pregame notes and picks for the entire slate of games.
Personnel To Watch
Brett Favre, Vikings: Will most likely be a game-time decision if Favre plays Sunday at New England. The ankle is an issue, as is the lack of production from the veteran QB. We might see Tarvaris Jackson under center. Big decision for Brad Childress.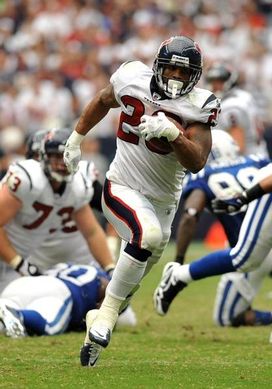 ICONFoster went for 200-plus in the Week 1 win over the Colts.
Arian Foster, Texans: Has another chance to shred that front seven of the Colts' defense again. Did Indy make the proper corrections to limit the production from Foster? We will find out Monday night.
Clay Matthews, Packers: Have to get pressure on Jets' QB Mark Sanchez when he is facing third and medium to third and long situations. If Matthews can win on the edge, Green Bay will force turnovers.
Thomas Jones, Chiefs: K.C. has another opportunity to bring a game plan to the stadium on Sunday that is heavy on the run. Against the 0-6 Bills, why would that change?
Darren Sharper, Saints: New Orleans needs his playmaking ability on defense. Sharper's second week back off of the PUP list. Time for him to jump some routes against Roethlisberger and the Steelers.
DeAngelo Hall, Redskins: Four INTs last week at Chicago. This week? Most likely draws the matchup of WR Calvin Johnson in Detroit. With QB Matthew Stafford back for the Lions, expect to see some double-moves run on Hall.
My Top 10 Teams
1. Pittsburgh Steelers (5-1)
2. N.Y. Jets (5-1)
3. New England Patriots (5-1)
4. Baltimore Ravens (4-2)
5. N.Y. Giants (5-2)
6. Indianapolis Colts (4-2)
7. Tennessee Titans (5-2)
8. Atlanta Falcons (5-2)
9. Miami Dolphins (3-3)
10. New Orleans Saints (4-3)
Pregame Notes
Indy: Just as we talked above about Texans' RB Arian Foster, what did the Colts do this week in terms of their preparation to shut down the Texans' running game? Go back, look at the tape from Week 1 and make the adjustments. The Colts' aren't an exotic defense scheme wise, so expect to see their base eight-man fronts: Cover 1, Cover 3 and Under 10. Will come down to technique and fundamentals more than anything.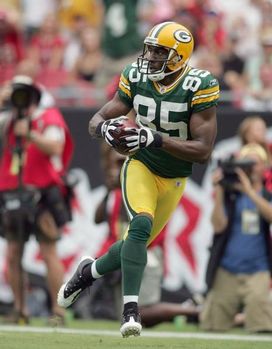 ICONJennings and the Packers' WRs have to win at the line of scrimmage in New York.
Green Bay: The slant route. A simple, basic 3-step route that is run on all levels of football. But, against a pressure team like the Jets, a major weapon in the playbook. Read pressure at the line of scrimmage? QB Aaron Rodgers has to check to the 3-step game and let Greg Jennings, Donald Driver and James Jones win at the line of scrimmage. This is a big play vs. Cover 0 pressure (no safety help). Going to have to test the technique of the New York secondary. Great matchup against Darrelle Revis and Antonio Cromartie.
San Diego: Can the Chargers avoid falling to 2-6? Face a very good Titans' defense at home. I do see Philip Rivers moving the ball, but it comes down to the mistakes and the turnovers every week. San Diego needs to limit the amount of penalties and stop putting the ball on the ground. Rivers is playing as good as any QB in the league in my opinion—time to translate that into wins.
San Francisco: The ultimate opportunity for QB Troy Smith. We are talking about a player that was cut at the end of camp and now finds himself starting for a new club in Week 8. Play well and Smith is looking at a jump-start to his career. Play poorly, and that game tape is going to follow him around. The Niners should be able to run the ball against the Denver defensive front, and that gives Smith manageable down and distance situations to work with. Big stage for the young QB in London.
Dallas: At 1-5, the Cowboys have to put together a magical run to even get back in the playoff discussion. Without Tony Romo, I'm not buying it. But, I am curious to see how they play on Sunday against the Jags. Who is going to step up (outside of rookie WR Dez Bryant) and make some plays? Dallas could easily pack it in against Jacksonville and drop to 1-6.
Oakland: This is a good matchup between the Raiders and the Seahawks. I like what both teams can do in the running game. Therefore, it comes down to QB play. Jason Campbell most likely gets the start again for the Raiders against Seattle's Matt Hasselbeck. Which QB can move the sticks on third down and put TDs on the board in the red zone?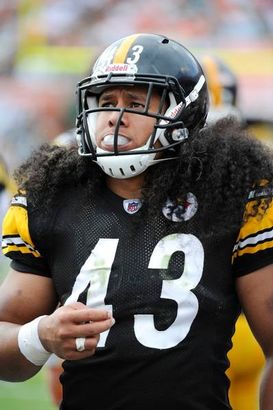 ICONPittsburgh's Troy Polamalu.
New Orleans: How do you game plan that Pittsburgh defense? For starters, the Saints have to run the ball—with production. Limit the amount of times that Dick LeBeau's defense can pressure. Slow down that blitz scheme. Use the screen game to your advantage. Yes, you can still throw the ball down the field in the vertical passing game, but that only happens when you can create throwing lanes and a pocket for QB Drew Brees. Look for Sean Payton to script a game plan with multiple formations—plus some exotics—that tests the speed of the Steelers' unit. I can't wait to see Bress vs. Troy Polamalu on Sunday night.
Minnesota: No reason for Brad Childress to put together a game that plan that doesn't feature running back Adrian Peterson. With Favre questionable and Jackson possible seeing playing time, run the football. A.P. should see 20-plus carries, because it allows this offense to use WRs Percy Harvin and Randy Moss in the play action game. But, it has to start with Peterson. Control and manage that clock on the ground. Vikings can't drop to 2-5.
My Week 8 Picks
Last week: 7-7 (28-14 overall)
Miami over Cincinnati
Dallas over Jacksonville
Washington over Detroit
Kansas City over Buffalo
N.Y. Jets over Green Bay
San Francisco over Denver
St. Louis over Carolina
San Diego over Tennessee
Tampa over Arizona
New England over Minnesota
Seattle over Oakland
New Orleans over Pittsburgh
Monday Night
Indianapolis over Houston
Bonus pick…
No. 18 Iowa over No.5 Michigan State
Three must see games:
1. Pittsburgh at New Orleans
Halloween night in the Dome? Crazy environment for Roethlisberger and the Steelers.
2. Green Bay at N.Y. Jets
Great test for QB Aaron Rodgers against Rex Ryan's defense.
3. Minnesota at New England
The Favre drama, Randy Moss' return and Belichick vs. Childress.
Follow me on Twitter: MattBowen41