November 06, 2011 -
Matt Bowen
Week 9 early game notes
After watching the early games on the Week 9 Sunday schedule, here are some quick notes to check out. Some Xs and Os, breakdowns, etc.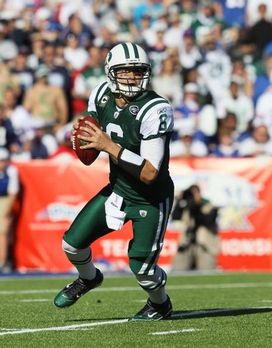 ICONSanchez and the Jets rolled the Bills 27-11 today in Orchard Park.
- Think play calling here from the offensive perspective of the Jets. We saw the run game, play action, inside breaking routes, etc. An aggressive call sheet as I saw it. And despite the red zone INT Sanchez threw on the opening drive, I thought the Jets' QB had control of this offense in the win at Buffalo.
- I will talk more on the Falcons' offense when I post my Monday NFL notes, but look at the big pays from Julio Jones today. The impressive grab on the deep post and the 80-yard catch and run he had off a basic, 3-step slant route. Put that on tape and defensive secondaries will get nervous—because that is legit speed. Big game from the rookie.
- Put yourself in the shoes of any defensive coordinator preparing for the Browns' offense. Is there anyone on that roster that you are going to lose sleep over? Colt McCoy isn't going to beat you. Easy win for the Texans.
- The major issue for the Chiefs today: secondary play. Dolphins' QB Matt Moore (17-23-244 yards-3 TDs) produced against a unit in K.C. that I thought was physical and challenged routes on Monday night in the win over San Diego. I didn't see that in Miami's 31-3 win. They were beat up by this Dolphins' offense.
- The Redskins can't produce on offense and it starts with QB play. John Beck doesn't respond to pressure and isn't going to consistently produce big plays for Mike Shanahan. Different year, but same story when we talk Redskins' football. There still isn't an answer at QB.
- How about the Saints' defense under Gregg Williams on third downs? This unit held the Bucs to 2 of 12 when they had to move the sticks. That the number you have to look at after New Orleans bounced back this week to beat Tampa. Solid game plan from Williams.
- Anything different from the 49ers? Not really, because Harbaugh's club can run the ball, they pressure the QB on defense and force turnovers (three more today). We see it every Sunday from this 7-1 ball club that is going to run away with the NFC West.
- The Cowboys get the win, but should we question their run defense under Rob Ryan? Last Sunday it was Philly's LeSean McCoy going for 185-yards and today Seattle's Marshawn Lynch posts 135-yards. Something to think about...
Follow me on Twitter: @MattBowen41