November 05, 2010 -
Matt Bowen
Week 9 NFL tip sheet
Time to look ahead to the Week 9 action in the NFL. Personnel to watch, my top 10 teams, game plan notes and picks for the entire slate of games.
Personnel To Watch
Michael Vick, Eagles: Will have to handle the edge pressure of Colts' DEs Dwight Freeney and Robert Mathis. Andy Reid wants him to step up in the pocket and keep his eyes down the field. We have to see that patience that Vick demonstrated before he was knocked out with the rib injury.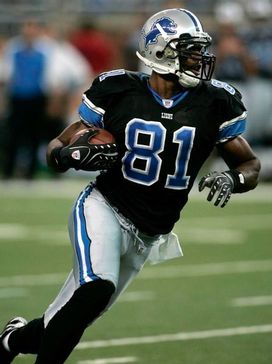 ICONDetroit's Calvin Johnson matches up with the Jets' secondary on Sunday.
Calvin Johnson, Lions: Good matchup against the Jets' CBs. Depending on which player Johnson draws on Sunday—Darrelle Revis or Antonio Cromartie—he has to win at the line of scrimmage. Put enough on tape in the red zone with 3 TDs against the 'Skins that he might also draw safety help.
Mario Williams, Texans: Didn't show up in the loss on Monday night to the Colts, but the production has to be there against Philip Rivers and the Chargers. The Texans' secondary isn't talented enough to win matchups against San Diego without pressure from their front four.
Percy Harvin, Vikings: The Minnesota WR benefited from having Randy Moss on the field—especially on third downs and in the red zone. Let's see what type of production he has on Sunday (with a bad ankle) against Arizona without that true No.1 on the outside.
Charlie Whitehurst, Seahawks: Big opportunity for Whitehurst with Matt Hasselbeck out with a concussion. Produce and put points on the board, and Whitehurst might be the No.1 moving forward for Pete Carroll--the coach that traded for him.
My Top 10 Teams
1. New England Patriots (6-1)
2. Pittsburgh Steelers (5-2)
3. Baltimore Ravens (5-2)
4. New York Giants (5-2)
5. Indianapolis Colts (5-2)
6. New York Jets (5-2)
7. New Orleans Saints (5-3)
8. Green Bay Packers (5-3)
9. Atlanta Falcons (5-2)
10. Miami Dolphins (4-3)
Pregame Notes
Indianapolis: Expect to see plenty of Cover 2 against Vick and the Eagles. As we have talked about before, the Colts will lean on that Tampa 2 scheme and count on their front four rush—while dropping seven into coverage. Ideal for a QB like Vick who can escape pressure. The back seven will drop to a landmark and have their eyes on the QB. If he breaks contain, pursue to the ball and make a tackle.
Miami: I love the matchup on Sunday in Baltimore when we look at the Miami WRs against the Ravens secondary. I haven't seen a No.3 corner in the NFL who can consistently shut down Dolphins WR Devone Bess when he is aligned inside of the numbers, and I am curious to see how the Ravens play WR Brandon Marshall on third downs. This, in my opinion, is what decides the outcome of this game.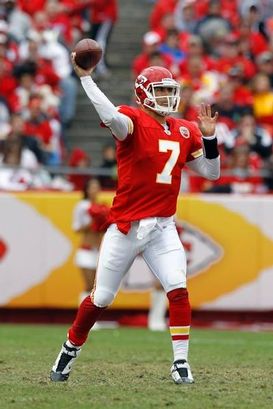 ICONThe play action game should be big for Cassel and the Chiefs in Oakland.
Kansas City: I expect the play action game to be big for the Chiefs against a very good Oakland defense. Charlie Weis should have a game plan that we are accustomed to seeing with RBs Jamal Charles and Thomas Jones featured on the call sheet. But, give QB Matt Cassel some opportunities to throw the ball down the field in early down and distance situations once you have established the run game.
Chicago: Bring their Ace personnel (2 WR, 2 TE, 1 RB) onto the field and align TE Brandon Manumaleuna in the backfield to create a 2-back look. Against the Bills, there is no reason for Martz not to use RBs Matt Forte and Chester Taylor in the run game. The Buffalo run front is soft—and Chicago needs to test it early.
Green Bay: Another game that is going to require that Packers' secondary to challenge receivers and make plays on the ball. Even with Jon Kitna in at QB for Dallas, the Cowboys still have explosive talent at the WR position. Woodson, Collins, Williams, etc. have to play big under the lights at Lambeau to get Green Bay to 6-3.
N.Y. Jets: I think this is a big game for QB Mark Sanchez. Coming off the loss to Green Bay, there will be questions about Sanchez and how he handles the game plan when opposing defenses can limit the production of the Jets' running game. As we saw last week, the Packers were able to get the Jets into third and long situations, rush only three at times and play coverage in the backend. New York doesn't need Sanchez to post big numbers, but this offense needs to see him move the sticks and generate points.
New Orleans: Could be another opportunity to put on a clinic when it comes to defensive football. Limit the running game from the Panthers and I have no doubt that defensive coordinator Gregg Williams will go after Matt Moore and this Carolina offense. Expect to watch a defense playing with a lot of confidence after the Pittsburgh win—and that translates into players attacking the ball.
N.Y. Giants: The hype around Tom Coughlin's team has cooled off because of the bye week, but is there any reason to believe that the Giants won't head out to Seattle with a game plan that features RBs Ahmad Bradshaw and Brandon Jacobs? Throw in the tape from the Seattle-Oakland game and you will see a Seahawks defensive front that was physically beaten up front by the Raiders. Ideal game plan, especially on the road in the Seattle—the league's toughest place to play.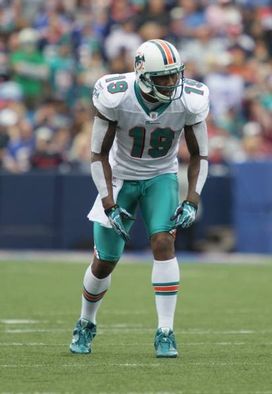 ICONMarshall and the Dolphins travel to Baltimore.
Week 9 Picks
Last Week: 9-4 (37-18 overall)
Atlanta over Tampa
Miami over Baltimore
Chicago over Buffalo
New Orleans over Carolina
New England over Cleveland
N.Y. Jets over Detroit
San Diego over Houston
Minnesota over Arizona
N.Y. Giants over Seattle
Oakland over Kansas City
Indianapolis over Philadelphia
Green Bay over Dallas
Monday Night
Pittsburgh over Cincinnati
Three must see games…
Kansas City (5-2) at Oakland (4-4)
Two physical teams playing a big AFC West game in November.
Indianapolis (5-2) at Philadelphia (4-3)
Vick back under center vs. Manning and the Colts in a late afternoon kickoff.
Miami (4-3) at Baltimore (5-2)
Don't expect it to be pretty, but this game should be won or lost in the 4th quarter.
Follow me on Twitter: MattBowen41