November 08, 2010 -
Matt Bowen
Week 9 winners and losers
Let's take a look back at the Week 9 action. My "winners" and "losers" from the slate of Sunday games…
Click here to read my notes from the Sunday early kickoffs.
Click here to read my notes from the Sunday late kickoffs.
Week 9 Winners
1. Jason Campbell: Can't judge Campbell's performance completely by the stat line (19-33-229-1TD-1 INT). Go back to the final drive in regulation and in overtime. Two passes. The first, a deep 15-yard dig to Jacoby Ford where the Raiders WR went out and made a play for his QB to set up the game tying FG. The second, the deep post to Ford in OT. Love the call in that situation. Put the game in the hands of your QB and let him make a throw to win it. Sets up the Raiders to kick the winning FG and beat the Chiefs. But those two plays have to stand out with Tom Cable and that Raiders' locker room. That is what you expect from a pro QB in pressure situations.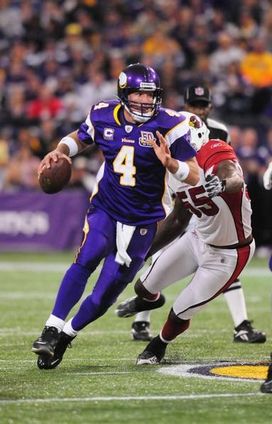 ICONFavre threw for 446-yards in the Vikings' comeback win on Sunday over Arizona.
2. The Vikings: Have to include everyone from Brett Favre, Percy Harvin, Zygi Wilf, Brad Childress, etc. Down by 14 in the 4th quarter, I was prepared to talk about Childress' immediate future today, but Favre (446-passing yards) brings them back and that entire past week of drama fades—for now. Winning does that in the NFL. It sounds simple, but it is reality inside pro facilities across the league. Coaches, players, etc. find a way to get along after a win. Practice is easier and players want to come to work. How long does it last in Minnesota? That is what we have to find out.
3. Philip Rivers: Mid-season candidate for MVP? I think so, because no other QB in the NFL is playing at the level of Rivers right now. Four more TD passes yesterday, with Seyi Ajirotutu acting as the leading receiver. Rivers can produce no matter who is aligned at the skill positions and of all the QBs in the league, has the best grasp of his offensive system. The Chargers look like they are ready to put a run together after wins over Tennessee last week and Houston on Sunday—and it will be because of the play from the QB position.
4. The Browns: Cleveland is playing good, physical football with a rookie QB. Go back to April when the Browns drafted Colt McCoy. Was essentially supposed to sit and watch this season. Now? Winning games and protecting the football. RB Peyton Hillis (184-yards, 2 TDs) is a classic downhill back that is producing and Rob Ryan's defense is one of the most underrated units in the league. And, we have to give a lot of credit to Eric Mangini—because his players are buying his scheme and his program. Solid win over Tom Brady, Bill Belichick and the Patriots.
5. Clay Matthews: I really hope that rookies—and veterans—are spending their off days on Tuesdays watching tape of the Packers' OLB. Athletic, great use of his hands, speed and one of those players who is always around the ball. Matthews is the best pass rusher in the league right now because he uses technique to go along with that talent. This Green Bay defense will continue to force turnovers because Matthews can apply pressure by winning his matchups—consistently—at the line of scrimmage.
Week 9 Losers
1. Pete Carroll: Remember when the Seahawks were 4-2? Plenty of discussion about Carroll's team being the best in the NFC. Not anymore. Go back to last week's 33-3 loss at Oakland and Sunday's 41-7 loss at home vs. the Giants. Two games where this Seattle squad was physically whipped up front and shut down. I don't know if we jumped on the Pete Carroll bandwagon too soon, or if this is just the true identity of the Seahawks. But, just like every season, the contenders start to separate themselves in November.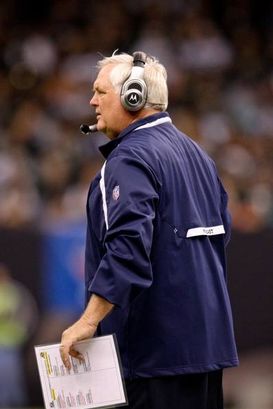 ICONTime for Jerry Jones to make a move with head coach Wade Phillips.
2. Wade Phillips: Last night's 45-7 loss at Lambeau Field was an embarrassment when we talk about the amount of talent the Cowboys' have on their roster—even without Tony Romo on the field. Jerry Jones has been vocal about retaining Phillips throughout the rest of the 2010 season. But my questions is simple: why? Give offensive coordinator Jason Garrett a chance to run this team. Make that his interview before the Cowboys go out and throw millions of dollars at a big name coach, such as a Gruden or a Cowher. Because, right now, this team has packed it in and it shows on the field. That goes back to leadership—and directly at Phillips. Time to make a move at 1-7.
3. The Bills: Easy to throw an 0-8 team on the list, but we have to go back to the 4th quarters (and overtimes) of the last three games for Buffalo. Chances to win, and it was no different yesterday. Up 19-14 in Toronto, Chicago CB Tim Jennings intercepted QB Ryan Fitzpatrick when he was beat on a double move. A shot to put this game away and get in the win column. But like we have seen all season from Chan Gailey's club, the can't close out games on Sundays.
4. Chad Henne: Can't go into Baltimore and turn the ball over. And that is exactly what Henne (22-34-231-3 INTs) did on Sunday in the 26-10 loss to the Ravens. I still like this Miami team to compete in November and December in the AFC East, but Henne's decision making has to improve, as does his production. Throwing 3 INTs will get you beat every Sunday—especially against this Ravens' defense. The Dolphins' QB was really outplayed by Baltimore's Joe Flacco.
5. The Texans: Back to playing .500 football in Houston. QB Matt Schaub continues to struggle and we have to question the secondary play after last week's loss at Indy and Sunday against Rivers and the Chargers--without Antonio Gates in the lineup. I do like what RB Arian Foster can do for this Houston offense, but can we really buy the Texans in the AFC South over the Colts and the Titans--with new WR Randy Moss? November will be a crucial month for Gary Kubiak's team and I don't see them making a run.
Follow me on Twitter: MattBowen41