December 26, 2012 -
Matt Bowen
Welcome to the 'real' NFL, Tim Tebow
Tebow would just be a "gadget guy" in the NFL.
How many times did we hear that during the draft process when Tebow came out of Florida? You all know what I am talking about here. A highly successful college player that just wouldn't make it in the NFL.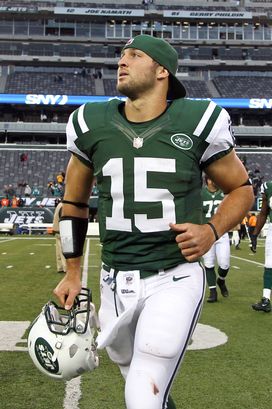 US PRESSSWIRETebow might have been promised more, but he was just a "gadget guy" for the Jets this season.
The transition would be too tough. That was the general opinion.
However, go back to last season in Denver. Look at the run he put together or the win over the Steelers in the playoffs. That was good football and the Broncos did a heck of a job building an offensive system that fit the skill set of their QB.
I was a fan. Why not? Tebow was making plays to win games. It didn't matter if it was conventional or not, because the proof was in the results.
But it doesn't take an expert to see that the Broncos and John Elway wanted more. That's why they signed Peyton Manning and traded away Tebow in the offseason. They made an upgrade at the QB position and Tebow, like hundreds of other players in the NFL, found out he was easily replaceable.
I've been there as a player. I was cut three times. Its no fun to find out you are essentially being thrown out for something better. Yet, it happens. That's life as a pro.
This season Tebow has been a part of the circus act under Rex Ryan in New York. A lot of talk and attention surrounding that team, but little to show for it. A disaster of a season for everyone involved.
In fact, it has been ridiculous.
Tebow was that "gadget guy" for the Jets. He played on special teams, ran the wildcat offense in awkward game situations and didn't produce any real numbers to talk about.
Was he promised something more, something bigger this past offseason and in training camp? I'm sure he was, but the NFL isn't always fun and games. It's just not. That's reality.
At times, it is a league built on lies when it comes to personnel. The coaches will tell you what you want to hear, but come game days it's never that easy.
Tebow is no different than plenty of guys who went into this 2012 season expecting more only to become afterthoughts as the season progressed. And according to reports this week, the QB asked to be taken out of the wildcat package when he found out he wasn't going to be named the starter for the now benched Mark Sanchez.
That surprised me. It really did. Tebow taking himself out? Come on. Not that guy.
There are opinions out there that have applauded Tebow for doing so (if the reports of his actions are completely accurate) and those that have questioned his ability to deal with some adversity.
I don't agree with anyone sitting down and passing up an opportunity. Whether it is covering kicks or running the option, passing up time on the field doesn't sit well with me as a former player. That's as honest as I can be. And you don't have to agree. That's not my point here.
Maybe Tebow does land in Jacksonville next season and wins a job in camp. Maybe not. I don't know that right now. No one does.
But after this year in New York, one thing is for sure with Tebow: he found out that this league isn't always fair.
Follow me on Twitter: @MattBowen41