November 30, 2010 -
Matt Bowen
Westbrook's production a great lesson to young players
Watching the Niners-Cards game last night, I couldn't help but think about Brian Westbrook. Five total carries—on the season. This is a player I used to have to prepare for and compete against back in the NFC East. He was a nightmare from a game plan perspective, and at one point, the most dangerous offensive player in the game. All we talked about in our defensive meeting room in Washington was how to limit (not stop) Westbrook.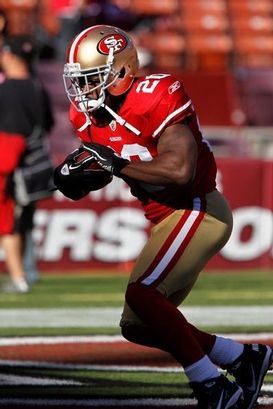 ICONWestbrook stepped into the lineup last night and rushed for 136-yards and a TD.
Out in San Francisco, we couldn't even consider him a role player (or a compliment) to staring running back Frank Gore. A long fall from the days in Philly, and something we are accustomed to seeing at the running back position with big name veterans—they vanish.
However, last night was all about opportunity and a great lesson to young players who come into this league. Westbrook goes from an afterthought to the No.1 back because of an injury. It happens all of the time in the NFL. The No.1 goes down and the next guy in line is supposed to produce—because that is what they are paid to do. The Niners' running back steps in for Gore and carries the ball 23 times for 136-yards and a TD. He looked fresh, was able to make people miss at the second level of the defense and didn't miss a step in the San Francisco power running game.
Young players—especially rookies—should see that production and realize that when they are called upon to carry the ball, step in along the offensive line, play in the secondary, etc. the coaches expect you to play at a high level. Think of it this way, the Niners and Mike Singletary did not go into that game in Arizona last night with a game plan designed to feature Westbrook. He wasn't featured throughout the week of practice, nor was he expected to be a productive player in a No.1 role.
But NFL game plans are completely flipped by the end of the first quarter and a name that wasn't supposed to show up in the box score did—with big numbers attached to it. And he will be expected to do it again this Sunday at Lambeau Field against the Packers.
Follow me on Twitter: MattBowen41