March 05, 2012 -
Matt Bowen
What about Mario Williams?
There is a lot of money being handed out today in the NFL with Franchise Tags (which will continue) and new long term deals. Look at Marshawn Lynch in Seattle, Arian Foster in Houston and Steve Johnson with the Bills.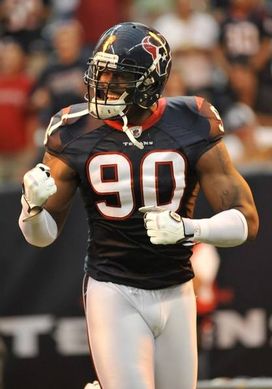 ICONWilliams would upgrade multiple defenses in the NFL if he hits the open market as a free agent.
All smart moves to prevent key players from hitting the open market.
But what about the Texans' Mario Williams? According to Mike Florio of Pro Football Talk, there hasn't been any serious contract talks between the DE/OLB and the club. There is always the slight chance that the Texans place the Franchise Tag on Williams, but as Florio points out, that number would reach over $22-million.
And this brings us to the real possibility Williams will be available as a free agent if a new contract isn't signed with the Texans.
Williams has the pure ability to play as an OLB in a 3-4 scheme, but to utilize his overall skill set, I still see him as a rush end in a 4-3 front. Play Cover 2 behind it, Cover 4, Cover 3, man-coverage, etc. When you have a talent such as Williams that can consistently apply pressure off the edge, play whatever you want in the secondary from a scheme perspective.
Williams provides that leverage in your defensive game plan.
There is no question WRs Vincent Jackson and Marques Colston will demand big paydays if they aren't re-signed or franchised by their clubs as the NFP's Joe Fortenbaugh wrote today. Attractive options at a position of need for multiple clubs.
But if Williams is on the market, we are looking at one of the top players in the league that provides an immediate upgrade at a prime position vs. today's NFL offenses.
Follow me on Twitter: @MattBowen41