May 24, 2011 -
Matt Bowen
What are the Bengals thinking with Palmer?
I'm not sure I understand the thinking behind Bengals owner Mike Brown when it comes to Carson Palmer. And on Monday, we heard the same old tired story as it applies to the veteran QB: play for Cincinnati or retire.
We all know that Palmer wants out (one NFL scout told me he "looks stale" in Cincinnati), and I understand the idea of standing behind your word (or threat) as the owner in this situation.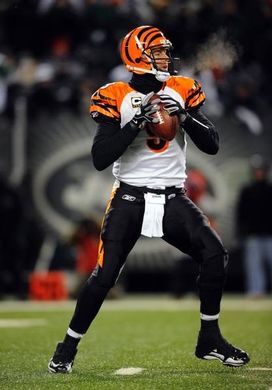 ICONPalmer will still have value as a veteran QB on the trade market once the lockout ends.
But why force the QBs hand here and get nothing in return?
There is real value with Palmer—if you are willing to listen to offers once the lockout ends. And if I am Mike Brown, I look to get a high price for a QB that I still see as a franchise signal caller. Deep ball ability, experience and an overall skill set that isn't easy to find at the QB position.
Think of the QBs that are expected to sign as free agents or get scooped up via trade once we see veteran player movement again in this league: Kevin Kolb, Donovan McNabb, Marc Bulger, Vince Young, etc.
Good football in that group that can win ballgames for you on Sunday in the proper situation, but they don't compare to the overall talent you get with Palmer. And that sells on the trade market.
He is still a No.1--but not in Cincy.
The Bengals have their new QB in Andy Dalton out of TCU and the new play caller in Jay Gruden. The team is starting over from an offensive perspective in Cincinnati and that doesn't include Palmer.
Where would he end up for the 2011 season? Seattle, Miami, Oakland and Arizona are the first teams that come to mind due to the fact that are far from settled at QB. They need an upgrade and Palmer would provide that. Walks in as your opening day starter.
However, before it even gets to that stage, Brown and the team need to start thinking about shopping the QB at some point this summer. Because forcing him to retire gets you nothing at all.
I'm curious to see how this plays out. Would Palmer actually retire? Maybe (and we to believe that is a possibility), but why would a team sacrifice getting value on the trade market just to prove a point? That's bad football and it doesn't add up.
Trade the QB and get some more tools to rebuild this team. Because this is a realtionship that can't be fixed.
Follow me on Twitter: MattBowen41