August 07, 2010 -
Matt Bowen
What do NFL teams look for in the preseason?
With the preseason schedule kicking off tomorrow night in Canton for the Hall of Fame game between the Cowboys and Bengals, let's spend some time talking about what the coaching staffs and GMs are looking for in these exhibition games.
Game plans are vanilla, generic and as a basic as they come—but they still serve a purpose. Coaches want to see their players execute simple route concepts: Curl/ Flat, Smash/ 7, etc. Up front, they want to see the O-Line open up holes and protect in passing situations. Fundamentals over schemes. The same fundamentals teams have been working on during individual drills in camp.
In Indy, that means running their base packages out of their 311 (3 WE, 1 RB, 1 TE) and 212 (2 WR, 1 RB, 2 TE) personnel and moving the ball. In Chicago, Mike Martz will want to see his base route tree under QB Jay Cutler. On defense, expect plenty of Tampa 2, Cover 3 and Cover 1 from Lovie Smith and a zone blitz here or there.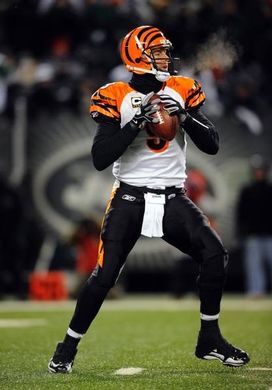 ICONPalmer and the Bengals open up the preseason schedule Sunday night.
Sunday night? Don't expect much from either Cincinnati or Dallas. This isn't a showcase game—it is a preseason game. Yes, T.O., Ochocinco, Romo, etc. will be out there, but they will run passing concepts we see at every level of football. However, that is the point of the preseason. Don't tip your hands when it comes to your regular season packages and put your players in the base offense and defense to focus on technique. Footwork, tackling, blocking, running routes at the proper depth and so on.
NFL teams don't game plan for August football and they don't watch film of opposing teams like they do in the regular season. Players will get a shortened game plan (sometimes the night before or on the plane) and go to work. That is your preparation. You know exactly what you will run on both sides of the ball. And, the coaching staff is looking for personnel that can produce, make some plays and efficiently run the same packages that have been installed since the first week of OTAs back in the spring. Only now, game situations come into play. Can your players execute on thrid downs, in the red zone, etc.?
For rookies, it is a major part of the evaluation process. Take Tim Tebow out in Denver. He will have a role come the regular season in the game plan, but for August, Josh McDaniels wants to see him run the base offense and put together a drive that produces points. Make the correct reads, don't turnover the ball and start developing as an NFL quarterback.
And, for bubble players, specials teams are key. Better make some plays in the kicking game if you want a spot on that game day roster come September.
Sure, we will still see some clubs run the wildcat, throw in a reverse or even attempt a fake punt. They do this to get it on film. Why? Simple: force your Week One opponent to waste time preparing for it.
I understand that fans have a hard time finding excitement in these games—and plenty of veteran players would rather take a pass as well—but they still are a part of the NFL training camp. Personnel over schemes is the message here. They are an extension of practice—and they have value.
Follow me on Twitter: @MattBowen41
Ready for fantasy football? Click here to purchase the Total Access Pass/ Draft Guide from the NFP.