July 21, 2010 -
Matt Bowen
What do we expect from Sanchez in year two?
Let's talk about the New York Jets this morning. Big-name moves — L.T., Antonio Cromartie, Jason Taylor, Santonio Holmes — and one of the top defenses in the league to garner plenty of preseason hype.
I don't mind that hype surrounding the Jets and I love listening to head coach Rex Ryan talk — about anything. A coach who I have been told by multiple players is great to work with. They are expected to win and, in reality, expected to challenge for the AFC East title and a run to Dallas for the Super Bowl.
But, what about Mark Sanchez? We can talk defense all day in New York, and even with those big names coming to the roster this offseason (something I am used to seeing after playing for Daniel Snyder in Washington), let's not forget about the development of the QB.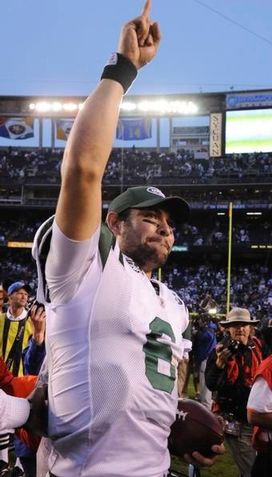 ICONThe Jets' Mark Sanchez.
If a player at any position in this league is going to make a jump in the second year, it is the quarterback. He gets an entire offseason to self-scout on film, study divisional opponents and go back and see where the mistakes came from in his rookie season. No combine prep and no pre-draft tour around the country. It is all NFL football at this point.
And, that is why I am curious about Sanchez. For a rookie starter, he was impressive at times, but he also looked like a first-year player in certain situations. Something we should expect. Forced throws, poor decisions and carelessness with the football. The playbook looked basic: the 3-step game, some play action and the occasional deep ball. Rely on the defense, the running game and use field position to win on Sundays.
As one ex-scout told me, you have to use a "limited playbook" when working with a rookie QB. But, he also expected that to change this season with Sanchez improving his overall game.
I talked to some defensive coaches this week that had to game plan and play against Sanchez in '09. One coach told me that the QB looked like a player who came into the league with limited playing experience at the college level. However, he believes that offensive coordinator Brian Schottenheimer is very good and we will see Sanchez making better and safer decisions with the football if he stays healthy.
Another coach brought up the idea of a "sophomore slump" with Sanchez, questioning the Jets running game without Thomas Jones and Leon Washington in 2010 and asking if there would be a true "sense of urgency" from the QB after the team's success last season.
Something to argue? Of course, but that is why we get to judge and put young QBs under a microscope in this league. We expect them to take a major step forward in their second season as a pro and use that learning curve to enhance their overall game.
In my opinion, the Jets roster looks great on paper. They have enough talent and great coaching in place to make a serious run at this thing. If Sanchez does show us that he is maturing as a pro, then we have something serious to talk about. Think of this team with good, consistent play from the QB position and an expanded, in-depth playbook…tough to beat.
Ready for fantasy football? Click here to purchase the Total Access Pass/ Draft Guide from the NFP.
Follow me on Twitter: MattBowen41