October 30, 2011 -
Matt Bowen
What happened in St. Louis?
I need to talk up the Rams really quick here after the 31-21 upset win over the Saints in St. Louis. Here are some quick game notes from earlier today.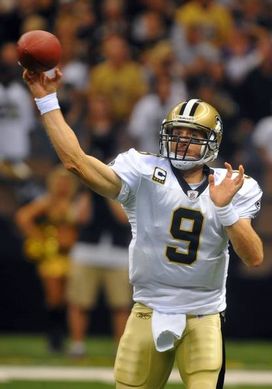 ICONBrees and the Saints' offense lacked big plays and couldn't handle the pressure of the Rams front four.
- The defensive pressure… Chris Long produced 3 sacks, but look even deeper at this defense for the Rams. The blitz packages (and the front four rush) completely disrupted the rhythm and the game plan of this Saints offense. From the perspective of the secondary, this allows you to sit on routes and take some risk. A luxury to have vs. a QB like Brees.
- Steven Jackson's production… Expect a rough meeting tomorrow when Gregg Williams turns on the tape in the Saints' facility, because Jackson ran through this defense. I watched a unit that couldn't get off blocks, didn't pursue to the football and couldn't tackle at the point of attack. And when you do that vs. Jackson (159-yards, 2 TDs), you will get physically whipped.
- Limit the big play on defense… Darren Sproles wasn't a factor, Jimmy Graham only had four receptions and we didn't see the explosive plays from the Saints' offense that flipped the field. Much easier to defend this New Orleans' offense when they can't take deep shots and target the top of the defense.
- A "trap game" for the Saints? I don't see it that way. Give the credit here to Steve Spagnuolo's club and their game prep. New Orleans scored 62-points last week, but the Rams put together a game pan that attacked the Saints' O-Line and used the run game to target Williams' front-seven. Clearly the more physical team up front.
Follow me on Twitter: @MattBowen41