August 05, 2011 -
Matt Bowen
What happened to the market for Braylon?
After Braylon Edwards signed on Thursday with the 49ers, I wasn't surprised to see that the WR agreed to a one-year deal. A rental in San Fran for the 2011 season.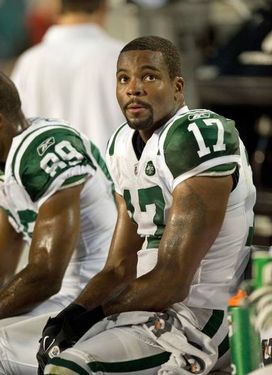 ICONInstead of a big contract, Edwards ends up in San Fran with a one-year deal.
That's what new head coach Jim Harbaugh and QB Alex Smith get in Edwards. They had a need at the position, didn't overpay and got some value in return. Despite the drops that we sometimes see from the former Jets WR, he can run the top of the NFL route tree: 7 (corner), 8 (post), 9 (fade).
Big play ability in one-on-one matchups and out of the play action game. That's a plus for the Niners.
But after the Jets essentially replaced Edwards with Plaxico Burress—a player that has been out of football for two seasons—shouldn't we start asking some questions about the WR?
Think about it: there was never going to be a big payday, because the market told us how the NFL viewed Edwards.
No deal that would compare to what the Jets gave Santonio Holmes or the money Sidney Rice got from the Seahawks. Big contracts with plenty of guarantees.
Instead Rex Ryan and the Jets let him walk while teams such as the Rams and Bears (that were actively looking for a receiver) passed him up.
A one-year deal in the NFL is a sign that the new team wants to try you out, see what they have and make any future money decisions after they get a good feel for what you provide—on the field and in the locker room.
For Edwards, this will be a telling season. He has an opportunity here to work with a new coaching staff that is looking for players. Harbaugh will continue to clear out that Niners locker room of veteran holdovers, and Edwards could be a part of the future.
It may look like the NFL handed out money during free agency with the size of some of the contracts we saw, but they don't just give it away to anyone. And Edwards is going to have to prove it first--if he wants to get paid.
Follow me on Twitter: MattBowen41