July 03, 2012 -
Matt Bowen
What is a 'Dino' route?
Click here for the entire Inside the Playbook series.
Let's talk red zone football today from an offensive perspective and focus on the "Dino" route (Double Post). An ideal concept that will target any single high safety defense (Cover 1, Cover 3, Fire Zone), cause issues vs. Cover 4 and even test the top of the secondary in Cover 2 (Tampa 2).
Take a look at the route up on the chalkboard and then we will get into some coaching points.
Personnel: Posse (3WR-1TE-1RB)
Formation: Doubles
Route: Dino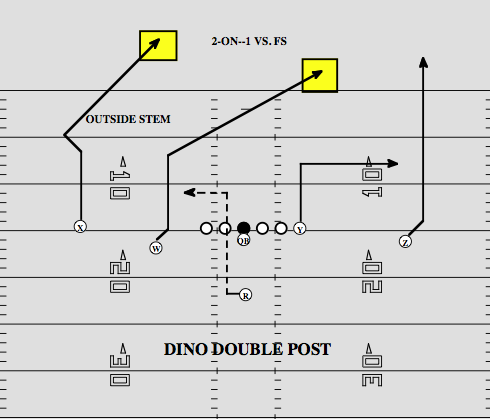 Route breakdown: To the closed (strong) side of the formation, I am running a clear out 9 (fade) route with the No.1 WR (Z) and a quick option route with the TE (Y). To the open (weak) side we are looking at the "Dino" concept. The slot receiver (W) will use an inside stem, get vertical and break the post in front of the FS (Cover 1). To the outside, the X receiver will use the "Dino" stem to create leverage and break back to the middle of the field.
"Dino" stem: Key to the route. You want to coach up the X receiver to take a hard vertical release, stem to the 7 (corner) and then break back on the post route. Working vs. Cover 1 or Cover 4, the goal is to create leverage vs. the CB playing from the outside. Force him to open his hips, and pin him to the sideline before making the cut to the post.
Why it works against…
Cover 1/Cover 3: The open side CB is coached up to play with outside leverage (funnel WRs to the FS) and should be in a "trail" position if the route is run properly. This now puts the FS in a tough spot. He has to sit low on the inside post and use a "closed angle" technique to wheel back to the deep post. One false step (or early jump) from the FS and the QB will now have a target that is running away from defensive leverage.
Cover 2: Start with the Mike Backer (inside vertical seam drop). The Mike has to look up the inside post and match to the route. But don't forget about the "Dino" stem vs. the FS in the deep half. In red zone football, the QB will throw the post vs. Cover 2 if the WR can break the route at an angle that provides him leverage in front of the safety.
Cover 4: Same principles as Cover 1 when we look at CB technique (man-coverage vs. vertical concept). With the inside post breaking across the field, the FS will drive downhill on No.2 (W)—leaving the CB with no inside help. Same idea as the "Pin" route here: remove the safety and go to work on the CB.
Follow me on Twitter: @MattBowen41