October 26, 2012 -
Matt Bowen
What is a 'jump' call?
Click here for the entire Inside the Playbook series.
Watching game tape this week, I'm surprised more defenses don't adjust their Cover 1 and Cover 3 schemes (single high safety looks) based on the reduced splits of the WRs. A tight alignment from X or Z? You can cut (or "jump") that with the FS (in both zone and man) to take away the intermediate crossing route. A pre-snap call communicated in the secondary.
Remember, WR splits tell you a story from a defensive perspective. And you won't see the same routes or combinations with a reduced or "nasty" split (tight to core of the formation) vs. a "plus" split (3-yards outside of the numbers).
To give you an example of a secondary using the "jump" call, let's take a look at the Steelers All-22 cut-ups from their game this past Sunday vs. the Bengals with the X receiver (A.J. Green) aligned in a reduced split to the open (weak) side of the formation.
"Jump" Call: Pre-Snap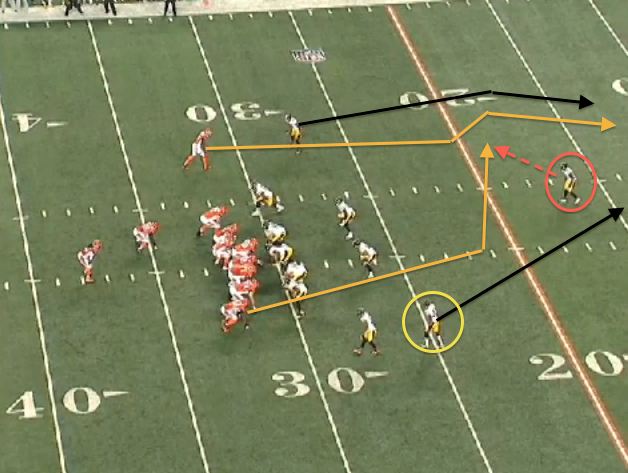 - The Bengals are running what I call the "Speedo" route. TE Jermaine Gresham takes the place of the Z receiver on the intermediate crossing route with Green on the deep post ("Dino" stem).
- The Steelers are playing Cover 3 (3-deep, 4-under zone). Perfect opportunity for Pittsburgh to use the "jump" call. FS Ryan Clark (red) will cut Gresham's route with the closed (strong) side CB Keenan Lewis (yellow) replacing Clark in the deep middle of the field.
-Open side CB Ike Taylor plays the outside deep third with the same technique: off-alignment with outside leverage throughout the route stem. Funnel Green to the help in the middle of the field.
Free Safety technique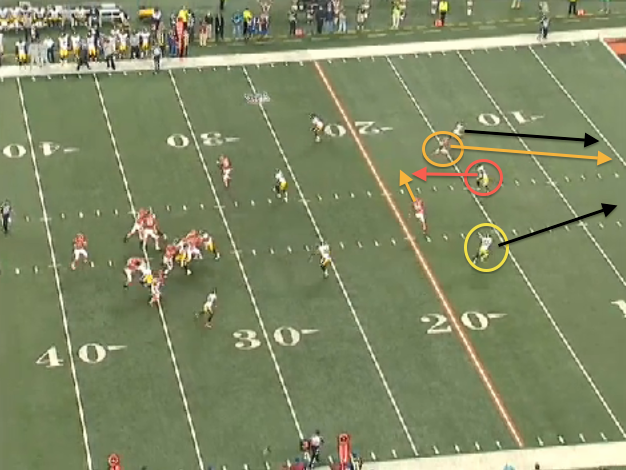 - You want to coach up the FS to drive to the up field shoulder of the intermediate crossing route. No different than playing an inside breaking route from an outside leverage position when we talk about a "target" point. Don't undercut the route or or drive to a spot on the field. Target the up field shoulder and let the receiver show you the route.
- Clark drives downhill on Gresham with Lewis taking a deep angle to put himself in a position to help vs. Green on the post.
Replacing the FS in the middle of the field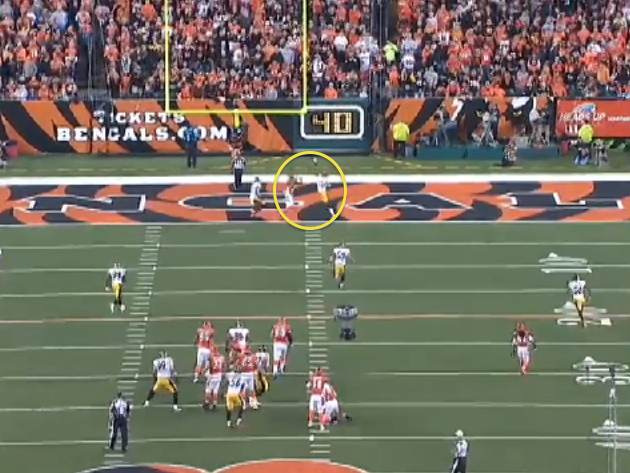 - Taylor is going to maintain that outside shade vs. the Bengals' WR down the field because he is expecting deep middle of the field help. And as we can see on the finish here, Lewis is in the proper position to play the ball at the highest point and prevent a TD.
Follow me on Twitter: @MattBowen41