May 24, 2012 -
Matt Bowen
What is Nicks facing during the rehab process?
I know there is some concern about Hakeem Nicks after reports that he broke the fifth metatarsal in his right foot today during Giants' OTAs. That's normal when you see a No.1 WR go down in spring workouts. You start to look ahead to training camp, the regular season, etc.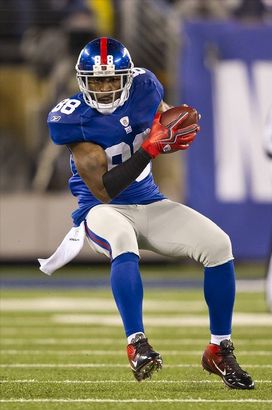 ICONNicks should expect 10-12 weeks of rehab after breaking his right foot today during OTA workouts.
However, after having the same injury during my career, there is still time left before opening day for Nicks to rehab. I broke my right foot during the 2001 season with Rams out in Philly at the old Vet. The same "Jones" fracture as Nicks. Immediate surgery the next morning and then on to rehab.
The team is saying this will be a 12-week rehab for the WR and I can agree with that (and the time could come down to about 10 weeks to reach full strength). Nicks will get a screw put into his foot tomorrow (to fix the break) and then most likely be put in a cast (or boot) until the bone fully heals.
Until Nicks is allowed to put weight on the foot and begin doing functional football movements, he should see a lot of rehab work in the pool and exercises to hold of some of the atrophy in his right leg.
The key for Nicks is the work on the field when he is cleared to start running. His conditioning level will need to be built back up (change of direction drills are big for football) as well as his lower body strength. No question that will take a hit. Plus, the WR will most likely miss the start of camp.
However, the bone will be healed. That's the main thing. Like any rehab process in the NFL, there will be great days and some you will want to forget as a player. Hanging out in the training room is no fun. And Nicks will also have to push through some initial pain in the foot once he puts pads on again. That's normal and part of getting back on the field.
But is this a major blow to the Giants? We aren't talking about an ACL here that puts a guy on the shelf for the entire season. And knowing how this process works, we should see Nicks play early this season.
Follow me on Twitter: @MattBowen41