May 17, 2011 -
Matt Bowen
What is really being lost in the NFL lockout?
Click here to read the latest analysis on the NFL lockout from the NFP's Andrew Brandt.
The player organized workouts we are reading about around the league? Definitely something I would attend if I was still playing in the NFL, but let's be honest here—they aren't the answer. And after the owners were granted a permanent stay on the lockout Monday evening (with June 3rd being the next step is this ongoing process), let's discuss how the labor battle is really hurting the game.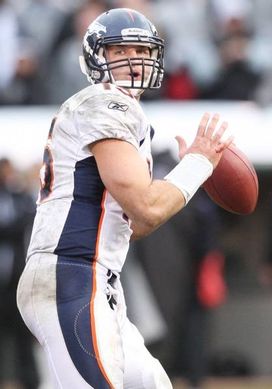 ICONTebow isn't going to work with the new staff in Denver anytime soon.
Playbook install: I don't care if rookies picked up a playbook during that one day of freedom after the first round or if veterans somehow managed to sneak one out of the exit meetings after the 2010 season (a fine of $20k on the teams I played on). The point here is that without OTA's, mini-camp, QB school, etc., those basic plays aren't installed. You have to be on the field to work through your core personnel groupings with a structured program. And that applies to both sides of the ball. Can it be done in August during (hopeful) training camp? Sure, but don't expect teams to hit the ground running. Plenty of practices will have to be scaled back to a walk-through pace to install the playbook.
Fundamentals: Maybe the No.1 aspect of the game that is being pushed to the curb during the lockout. Time spent on the field with your position coach after weight lifting sessions, 7-on-7, run fits, and general technique that has to be coached—and corrected. Every aspect of an NFL practice (offseason or during the regular season) is put on tape. And those correction periods are just as important as what you do as a football player out on the grass. You need to get in that meeting room during the spring and see where you are in terms of footwork, hand placement, run-pass keys, etc. And that includes self-scouting your own play from the 2010 season—with the coach sitting right next to you. Can't replicate that.
Competition: I will admit that no job has ever been won in May. Something every player would acknowledge, but first impressions go a long way in positional battles. Think about what should be happening in Denver with Tim Tebow, Kyle Orton and Brady Quinn. Sure, the coaching staff would want to see them on the field during the preseason in game situations before they made any decision on which QB would be the opening day No.1. But don't discount what you can do as a player in the offseason. Show improvement everyday and a willingness to be coached. That sells in any competition.
New coaching staffs: The longer the lockout lasts, the more these new staffs in Carolina, San Fran, Denver, Cleveland, etc. fall behind. That extra mini-camp held before the draft was a bust and now they are trying to evaluate their rosters based solely on tape. And that doesn't always tell the complete story on players. The three topics we already discussed? They will sting the veteran coaching staffs, but they really hurt these new coaches--and their rosters. Because right now all they can do is work on the chalkboard.
Where do we go from here?
We all wait—again. Maybe we see some veteran player movement in June, maybe not. But until we have a new CBA in place, the game it going to take a hit. Because players need to be on the field in a structured NFL environment to work on their craft. And we aren't getting that right now.
Follow me on Twitter: MattBowen41