December 17, 2010 -
Matt Bowen
What is Shanahan thinking by benching McNabb?
What gives with Mike Shanahan in Washington? Forget the Albert Haynesworth talk for a minute—and the 5-8 record—and focus on his latest move: benching starting quarterback Donovan McNabb.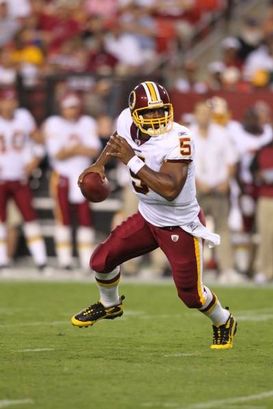 ICONMcNabb will be replaced by Rex Grossman on Sunday vs. the Cowboys.
As reported by Keli Johnson of Comcast Sports Net, McNabb will sit on Sunday at Dallas—for Rex Grossman. As Johnson stated, the locker room isn't agreeing with the move and I understand why. It is a tough sell to the players whenever you sit a starting QB, especially one in McNabb that has had success during his career. Younger players will gravitate to him because of his leadership skills and veteran players want to know that their QB is going to compete—which McNabb will. They want to see him in that huddle of Sunday.
I completely understand that McNabb has had a rough season in Washington under Shanahan, even with the contract extension. We can all see the inconsistent play out of the quarterback in this Redskins' offense. But, go back to the game in Detroit, where Shanahan pulled McNabb in a crucial two-minute situation. It was the wrong call and despite the excuses that were fabricated by Shanahan, there was a divide created between player and coach.
Is it correctable? I don't know because this latest move tells me that Shanahan is being that coach—the one players can't stand to compete for. Because even in a throw away game at Dallas, these guys are still paid to win. And I just can't buy the idea that Grossman gives the 'Skins a better chance against Jason Garrett's team than McNabb.
It is bad football and something that seems to play out year after year in Washington. But, we will see the 'Skins close out another season with drama attached to that final record. Shanahan was supposed to correct that—but I am still seeing the same old story for a franchise that I played for. It never ends in D.C.
Follow me on Twitter: MattBowen41