June 23, 2012 -
Matt Bowen
What is the 'Fence' route?
Click here for the entire Inside the Playbook series.
On Thursday, I went to my defensive notebooks to write up a Mike Shanahan game plan when he was coaching the Broncos. Offensive tendencies, the run game, route schemes, crucial plays, etc. And after posting the piece, I received multiple questions via email on the "Fence" route. A vertical concept out of Regular personnel from Shanahan's playbook that sends four strong and puts stress on the top of the defense.
Let's check it out on the chalkboard and break it down vs. Cover 3.
Personnel: Regular (2WR-1TE-2RB)
Formation: Pro (Strong I)
Route: "Fence"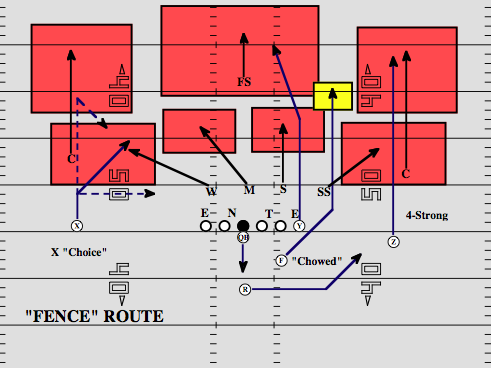 Route breakdown: Similar to the "999" concept (Cover 2 beater) when we focus on the vertical routes. The No.1 WR to the closed (strong) side of the formation (Z) will run the clear out 9 (fade) route with the TE (Y) running the inside vertical seam (post route vs. Cover 3). The FB (F) will release vertically up the field with the RB (R) on the swing route—giving the offense a "4-strong" look. To the open (weak) side of the formation, I have the X running a "choice" route (Slant, Curl, Smash) based off his pre-snap read of the defensive scheme.
F Alignment: This is key from a defensive perspective when you break the huddle with Regular personnel on the field. The FB (F) is in a "chowed" alignment (outside leg of the tackle) for a reason: to release into the route scheme. Know the difference between a run alignment and a pass alignment when you go through your pre-snap keys as a defensive player. This alignment here has to be a pass alert on the field.
Beating Cover 3: We can also draw this up vs. Cover 2 or Cover 4, but let's stick with Cover 3 (3-deep, 4-under). With both the FS and the closed side CB occupied by vertical concepts (and the SS widening to play the R on the swing route), the offense wants to target the FB. If the closed side "middle hook" defender (S) doesn't get enough depth in his drop, this will turn into a productive play with the FB splitting the FS and CB.
Follow me on Twitter: @MattBowen41