November 20, 2012 -
Matt Bowen
What QB controversy? Give the ball to Kaepernick
Jim Harbaugh can't sit Colin Kaepernick, right? Think about it. A young QB (in his first pro start) vs. one of the NFL's top defensive units on a prime time stage.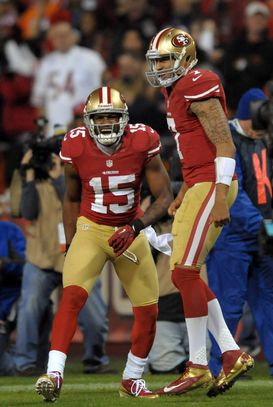 US PRESSWIREAfter Kaepernick's production Monday night, why would Harbaugh sit the young QB?
243-yards and two TDs vs. the Bears. Not bad.
Look at it this way: Kaepernick produced those numbers running a pro offense. This wasn't a situation where the QB came off the bench in a specific personnel package to line up in creative formations and run option schemes. That's gadget stuff.
One Zone Read. That's all I saw from the 49ers. Align in the gun, read the path of the DE, ride the RB through the mesh point and hand the ball off for a positive gain.
The rest of the night? Run the game plan, use the athletic ability to escape pressure and make throws down the field. Kaepernick played with confidence and showed a lot of poise under the lights.
And he makes this physical Niners offense even more dynamic.
From a player's perspective, this league is all about opportunity. It doesn't matter if it comes via injury or because a veteran's production is lacking. If you are a given a chance, then go out and get the job done. Make a statement. Show the coaching staff, the locker room that you can compete—and win—at the pro level.
Display your skill set and secure a job in the NFL. That's the drill. How many players have made careers out of taking advantage of one opportunity to play? It happens across the league.
Maybe Harbaugh does go back to Alex Smith once the vet is cleared to play. That could happen. But if you were coaching the 49ers, would you take the ball away from the young QB that just carved up a top five defensive unit? A QB that you scouted, targeted and ultimately drafted to run your offense?
Nah. I couldn't. No way.
Kaepernick showed me last night that he is ready to execute and produce on the big stage. Now, let's see if Harbaugh agrees.
Follow me on Twitter: @MattBowen41