December 13, 2010 -
Matt Bowen
What should the NFL do with the Jets' Sal Alosi?
Should the Jets' Sal Alosi be fined, suspended or even fired? That is the question we should ask ourselves after the New York strength and conditioning coach intentionally stuck his knee out to "trip" the Dolphins'Nolan Carroll yesterday during a special teams play.
Integrity of the game is the first thing that comes to mind. We watched a coach on an NFL staff cheat the game. Save that stuff for the park down the street or a turkey bowl on Thanksgiving morning with your uncles—but not on Sundays.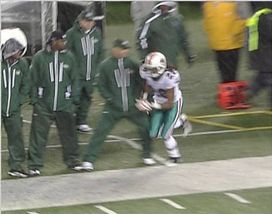 Alosi was caught by the cameras "tripping" the Dolphins' Nolan Carroll.
I played the "gunner" spot in this league. Try to win at the line of scrimmage—against two defenders—and then work your way down the field against defensive backs that are skilled in using their hands and playing physical football. It can be an absolute nightmare—and the sideline is always an adventure. I have been thrown into the bench by Sam Madison of the Dolphins and run directly into the path of Mike Tice when he was the head coach of the Vikings. I have no issue with players—and coaches—standing directly in your path (which the Jets' staff did by lining up like a marching band yesterday), but to go out of your way and try to trip up a player in asinine.
We could be looking at injuries, such as a blown ACL, or a play that could impact the outcome of the game. Carroll and that Miami roster have every reason to be upset and to want to take a shot at Alosi and head coach Rex Ryan—who is the brains behind this team and their tactics. Alosi issued an apology, but we all saw that coming. No where to hide when it is caught on TV and passed around the Internet.
The issue now is the punishment. And I guarantee that every player in this league (including those on the Jets' roster) are waiting for a decision from the Roger Goodell and the league office—because it is time to make an example out of something I have never seen before. Sure, I saw plenty of dirty football in my seven years in the NFL, but not this.
My take? Fine him and keep him away from the stadium. Whether or not he is retained on the Jets' staff is up to Ryan and ownership, but there is no reason for Sal Alosi to be on an NFL sideline for the remainder of this season. Send him home on Sundays.
Follow me on Twitter: MattBowen41