December 23, 2011 -
Matt Bowen
What we can learn from Colts' game winning TD
Click here for the entire Inside the Playbook series.
Anytime we watch an NFL game there is something new we can learn from the personnel on the field, WR splits, route concepts, coverage, etc. And last night was no different when Colts' QB Dan Orlovsky hit WR Reggie Wayne on the goal line (back-shoulder) fade route to beat the Texans.
Today, let's take a look at the Colts from their pre-snap alignment and discuss some quick coaching points to break down the Xs and Os on both sides of the ball.
Texans vs. Colts
Personnel: Posse Bunch (3 WR, 1 TE, 1 RB)
Route: Fade/ Double China-7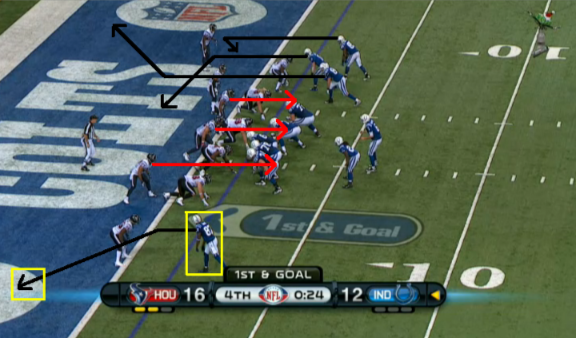 Route scheme: Start with the closed (strong) side of the formation. All we are looking at is a Double China-7 with some window dressing of the bunch formation. Again, disguise a base route concept with the pre-snap alignment. To the open (weak) side of the formation, Wayne in an one-on-one matchup to run the back-shoulder fade.
Coverage: Blitz-man. The Texans are playing Cover 0 (blitz coverage with no safety help). Align with an inside-shade (inside shoulder of the receiver), take away routes that break back to the middle of the field and rush seven (highlightd in red). The ball has to come out quick with the Colts using a 6-man protection scheme.
Focus on Wayne: From a DB's perspective, you play for two routes on the goal line vs. a No.1 receiver: slant or fade. That's it. However, the WR's split tells you the story. Wayne (highlighted in yellow) isn't going to run a slant with this reduced split (on or inside of the numbers with the ball on the near hash). Instead, he has shortened his split to create enough room to win on the release and stem the fade to the corner of the end zone.
What we end up seeing is Wayne beating Texans' CB Kareem Jackson and a great ball from Orlovsky thrown to the back-shoulder.
Follow me on Twitter: @MattBowen41