February 08, 2012 -
Matt Bowen
What we can learn from Cruz's Super Bowl TD
Click here for the entire Inside the Playbook series.
Click here for a breakdown of Mario Manningham's catch in Super Bowl XLVI.
Before we get into Victor Cruz's TD in Super Bowl XLVI, here are the three routes you must play for inside of the 5-yard line that will test a defender's initial leverage and technique:
1. Slant
2. Fade
3. Back-shoulder Fade
Today, let's take a look at the slant, breakdown the Giants from their pre-snap alignment vs. the Patriots and discuss why Eli Manning was able to beat Cover 0 (blitz-man, no safety help).
Giants vs. Patriots
Route Concept: Double-Slant
Personnel: Posse (3 WR, 1 TE, 1 RB)
Coverage: Cover 0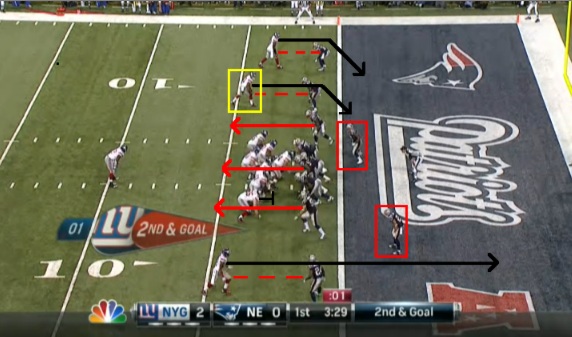 Coaching points
Cover 0: The Patriots are sending six and playing five in coverage (a scheme I call "Saw 0"). A standard blitz that can turn into an eight-man pressure if the SS and ILB (highlighted in red) "green dog" (rush to coverage). With the TE and RB staying in on protection, both Patrick Chung (SS) and Jarod Mayo (ILB) become "rovers." Read the QB and step into the throwing lane of any inside breaking route.
Initial leverage: Can't get beat to the inside on the slant. Basic rule to follow here when playing Cover 0 anywhere on the field—especially inside of the 5-yard line. Slide your feet to mirror the release of the WR, punch with the outside hand and force him to take a lateral stem to the line of scrimmage. Kill the route before it can even develop.
Cruz's release, stem: This is one of the main reasons we saw production from the Giants' WR this season. Cruz consistently wins at the snap and at the top of the route stem to create separation with the DB. Here, Cruz forces the DB to "open the gate" (open his hips to the outside) and that allows for a clean, inside release on the slant.
Mayo as the "free" player: This is what you want from the perspective of the Patriots. Even with Cruz winning to the inside, we have to remember that Mayo is a "free" player in this situation. As that rover, you want to drive to the route, get your head around and find the ball. However, Mayo takes a flat angle to the slant and that allows Manning to throw the ball to Cruz's up-field shoulder for six points.
Follow me on Twitter: @MattBowen41