December 10, 2012 -
Matt Bowen
What were Titans, Locker thinking on the goal line vs. Colts?
Click here for the entire Inside the Playbook series.
While catching up on the league last night, one of the plays that stood out was Jake Locker's INT vs. the Colts. In a backed-up situation, the Titans wanted to create some space off the goal line with the 3-step passing game. I can see that. However, to throw the 3-step Hitch from the opposite hash vs. a CB playing with a flat-foot read? That's trouble—and it lead to a "pick-six" from Colts' CB Cassius Vaughn.
Let's take a look at the route and focus on CB technique vs. the 3-step passing game...
Titans vs. Colts
Personnel: Ace (2WR-2TE-1RB)
Formation: Unit
Route: Hitch
Defensive scheme: Cover 4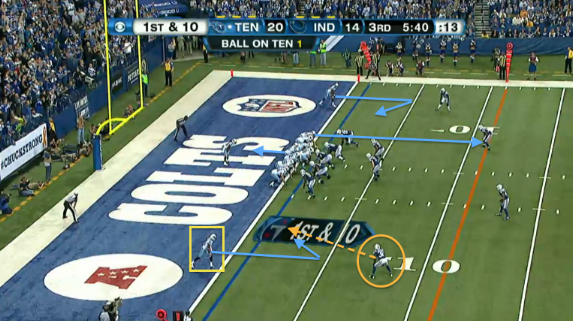 -Vaughn is playing with off-man technique (Cover 4 footwork) and using a flat-foot read (no backpedal, read through the QB). As a CB in this situation, you will only turn your hips and open if the WR puts stress on your cushion (distance between WR and DB). Show some patience, trust your ability to transition vs. a vertical concept and read the QB's drop.
- As I said above, I have no issue with the Titans throwing the ball in this situation, but the Hitch route can lead to trouble if the WR can't force the CB to give ground off the release.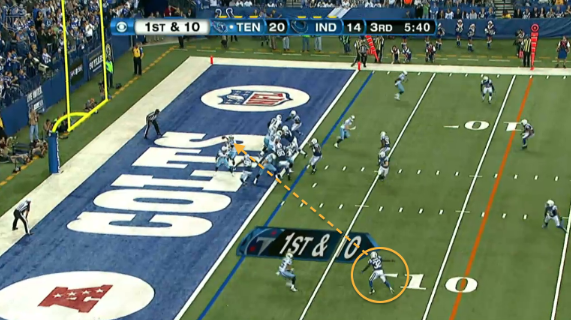 - I like this angle because we can see Vaughn's eye placement. As a DB using a flat-foot read, you want to get your eyes inside (thorugh the 3-step) and then back to the WR if the QB moves to a five or seven step drop. Vaughn reads the 3-step and puts himself in a position to drive on the throw.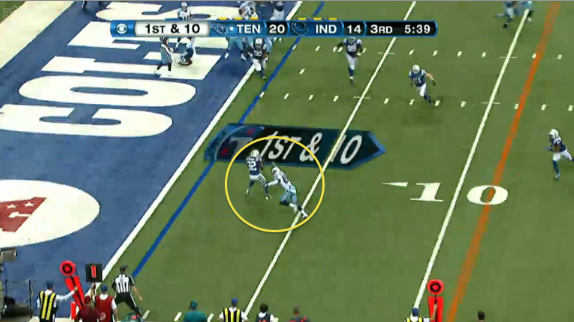 - Vaugh breaks on this throw and makes the play. A solid example of why technique sells vs. the 3-step game.
Follow me on Twitter: @MattBowen41