December 23, 2010 -
Matt Bowen
What will the 49ers' get from Troy Smith on Sunday?
Now that the 49ers have turned the ball over to Troy Smith—again—what should we expect from this offense Sunday at St. Louis? Last Thursday night; in the loss at San Diego, the San Fran offense was stale, boring and ineffective against the pressure defense of the Chargers.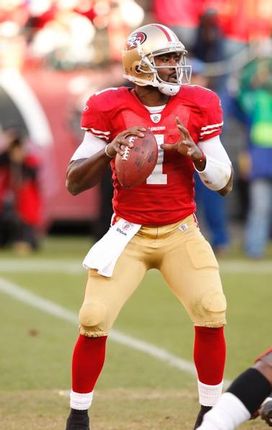 ICONTroy Smith will get the start this Sunday at St. Louis.
Can Smith change that? I will agree that he can bring some movement to the pocket and escape blitz-pressure. But, for the Niners to stay in this NFC West race, he has to run the offense—and get the ball in the hands of his playmakers. That is something we didn't see from Alex Smith last week in the loss at San Diego. The former No.1 QB played "check down" football for the most of the night and didn't challenge the top of the defense. Bottom line: that isn't good enough to win.
San Fran can't have that from Troy Smith. When he reads Cover 2 from the defense, Smith has to challenge the inside vertical seams and the sidelines. Put some stress on the safeties. Versus a single high safety (think Cover 1, Cover 3), Smith must take his shots outside of the numbers. Yes, the 49ers need production from Anthony Dixon and Brian Westbrook in the running game, but when the QB has an opportunity to test the Rams' defense, the ball has to come out. Go ahead and make a play—because the season depends on it. Why not take some risk when he is in the pocket and working the ball down the field?
Obviously, we do need to see more from Davis and Crabtree. This San Fran game plan has to feature these two receivers. But, it starts with the QB position. This is a pressure situation for Troy Smith. Head coach Mike Singletary is handing him the playbook in a must-win game that is going to determine the job status of the coaching staff and much of the roster for the 2011 season. Let's see what he does.
Follow me on Twitter: MattBowen41