February 28, 2012 -
Matt Bowen
What would you offer to move up for RGIII?
With the amount of hype surrounding Baylor's Robert Griffin III after his Combine workout—that should grow once the QB throws at his Pro Day—can anyone blame the Rams for looking to shop the No.2 overall pick?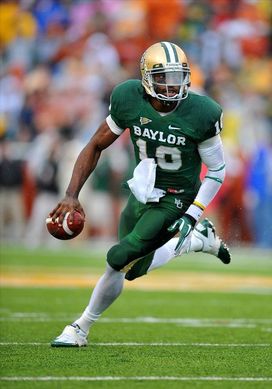 ICONIt won't be cheap to trade up and get Robert Griffin III in this year's NFL Draft.
According to ESPN's Adam Schefter, St. Louis will trade down in this year's draft. A smart (and expected) move considering the demand for QBs in this league and the multiple upgrades the Rams need to make to their roster under new head coach Jeff Fisher.
Plus, with a franchise QB already under contract in Sam Bradford, the Rams should announce that they are willing to trade, drive up the price and stockpile picks come the first round of the draft this April.
Who are the prime candidates to move up? We know the Browns need to upgrade over Colt McCoy, the Redskins and Dan Snyder are always looking to make a move, the Dolphins need a No.1 and Tarvaris Jackson isn't the answer in Seattle.
That's four teams right there (with more that could show up in April).
However, the key aspect is the price it is going to cost to move up to that No.2 spot knowing that multiple teams are in the mix.
Two first round picks (2012, 2013) are a given. That is almost like an entrance fee to get into discussions with the Rams. After that? As Schefter pointed out, the Chargers got two first round picks, a third and a fifth for Eli Manning.
Not cheap, but again we are talking about the QB position and what many believe to be a special talent in Griffin. A player you can build an offense around, get creative and utilize his skill set to produce a unique playbook that caters to his abilities.
You pay for that in this league. And come April, after the veteran free agent talent at QB (Peyton Manning, Matt Flynn, etc.) have settled into offseason workouts with their new clubs, there will be teams that are still looking to upgrade the position.
No question the Rams are sitting in a prime spot. They are going to collect multiple picks because of Griffin's talents. And I truly believe we are going to be shocked at how high the value is to move up to draft the Baylor QB.
Follow me on Twitter: @MattBowen41