July 31, 2011 -
Matt Bowen
What's going on in Chicago?
What's going on down in Bourbonnais, Illinois at Bears camp right now? That is my question after Chicago signed free agent O-Lineman Chris Spencer—essentially ending the run of Olin Kreutz.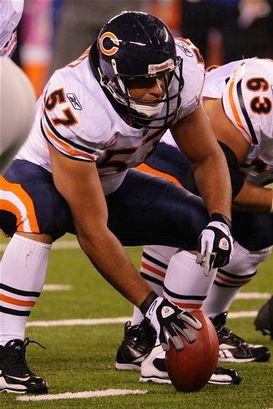 ICONThe Bears should be questioned after not coming to terms on a new deal with center Olin Kreutz.
Here's the thing with Kreutz. The center isn't one of the elite talents at the position in the NFL anymore. We know that. But when looking at the Bears O-Line as a unit, he is the unquestioned leader. Something that former Bears Director of College Scouting, Greg Gabriel, discussed recently here at the NFP.
And playing the center position in the NFL isn't as easy as it sounds. No different than a strong safety—or a Mike Backer—that takes care of every adjustment on the fly before the snap of the ball. The center handles the protection count, adjusts blocking schemes and runs the O-Line. Crucial to any football team.
That is why Kreutz still provided value to this football team. It doesn't always show up on TV, but in those meetings on Monday morning, it sure does show up on the game tape.
The real issue here for Chicago? Spencer isn't an upgrade over Kreutz—and this went down over a reported $500,000 in contract disputes. Small price to pay to bring back a veteran leader on the field and in the locker room, right?
I understand that veterans come and go every offseason in the NFL. That's part of the game and the business of the league. Something I saw every year in my career. But those moves are are done for cap reasons and roster upgrades. And that's not what I am seeing here.
We should expect Lovie Smith and Jerry Angelo to spin this in a way that leans towards the organization. But for a team that has already taken some chances this week on talent that hasn't produced lately in the NFL, it makes sense to take care of your own players that have shown they are accountable on Sundays.
I am curious to watch this play out for Mike Tice's O-Line in Chicago and what the overall impact is during the regualr season. However, for a unit that needed to be "upgraded" during free agency, this move doesn't add up.
Let's see what happens next...and if the Bears can find a way to make this work.
Follow me on Twitter: MattBowen41