March 19, 2012 -
Matt Bowen
What's next for Tebow?
We don't have to get into how Peyton Manning upgrades the QB position (and the entire roster) in Denver after making his decision to go with the Broncos today. We already know that.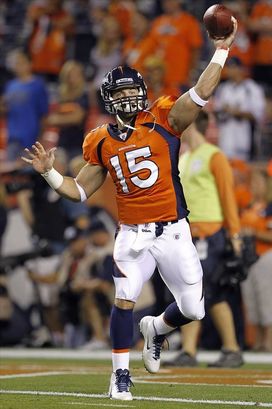 ICONWill John Elway and the Broncos find a trade partner for QB Tim Tebow?
However, when it comes to Tim Tebow, I'm very interested to see if the Broncos can get something in return for the former first round pick. That should be the next step in the process for John Elway and the front office in Denver. Look for a trade partner and try to move the QB out of town.
I think it's hard to put a value on Tebow. We are looking at a QB that needs more time to develop. All you have to do is turn on the tape to see that. No question Tebow made some big plays this past season and won a game in the playoffs, but there is plenty of room to improve his overall skill set.
And in order to develop as a pro QB, he has to be on the field. Forget running the scout team for another NFL club in the 2012 season or being targeted as a "gadget player." That's not good enough at the NFL level.
Sure, Tebow can still be used in a variety of ways on Sunday to compliment your offense. Think red zone football and certain game situations where you can install unique personnel groupings and alignments to work with Tebow's talents.
This might sound attractive to some, but I'm not sure if you can put a trade value on that alone. There needs to be more. And for teams looking to add another QB, they have to determine if Tebow can come in, compete and ultimately win a No.1 job on their roster. Is there upside here? That's a question teams have to answer.
The speculation has already started and I've seen Miami mentioned multiple times as a landing spot for Tebow. Does that happen? Would the Dolphins make a deal with Elway and the Broncos to bring Tebow in?
Plus, you can't count out the idea that Tebow is released if no one steps up to give Denver a legitimate offer.
Let's see how this plays out. The Broncos got the QB they wanted in Manning and will now attempt to deal Tebow. And we will find out what his real value is.
Follow me on Twitter: @MattBowen41