December 22, 2010 -
Matt Bowen
What's next for Tebow?
With one start in the books as a NFL quarterback, what do you want to see from Tim Tebow this Sunday vs. Houston? Because—from a coaching and scouting perspective—his development and overall learning curve should be expected to increase every time he takes the field.
I thought the game plan we saw from the Broncos in the loss to the Raiders was productive from the standpoint of working with a young QB. Play action designed to give Tebow a solid primary read in the passing game. The deep crossing routes that get a WR matched up against a defender playing outside leverage. And the basic route schemes that every quarterback has to complete: slant, curl, option, etc. Tebow completed 8-16 passes for 138-yards and the TD pass where Brandon Lloyd made a play for him in the corner of the end zone. You need that as a QB from your play makers.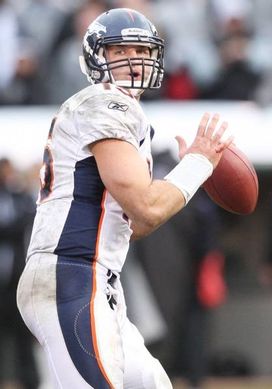 ICONThe next two games will be important for Tebow's development as an NFL QB.
Great numbers? I say solid numbers for a first start considering the questions that have surrounded the former Gator since the Senior Bowl last January down in Mobile, Alabama—where Tebow was essentially written off.
He does have a unique talent to the NFL game. And we saw some of that when he made something out of a busted play in the backfield and showed off his speed—and power—on a 40-yard TD run. However, let's be realistic here and limit the amount of bouquets we throw at the rookie after one start.
Take a step back and look at Tebow through the eyes of a coach or a pro scout. They want to see a game plan that steadily becomes more demanding, because this is a process. A full compliment of five and seven-step drops. Yes, those 3-step routes and single primary reads are a necessity in every NFL playbook, but why not push Tebow and test him on the field? That is how you start to evaluate young quarterbacks.
Sam Bradford has gone through it in St. Louis, along with Colt McCoy in Cleveland and Jimmy Clausen down in Carolina. You have to see them in consistent game action to judge how they manage the offense, play situational football (think red zone, 3rd down, backed up, two-minute, etc.) and react to pressure schemes.
Interceptions, mistakes, etc. Part of being a rookie QB. If Tebow goes out on Sunday and makes a couple of poor decisions they become teaching points. Get them on film and learn from it. The same can be said about his throwing mechanics and how he reads NFL coverages. That shouldn't be your No.1 concern. Instead, judge how he runs the offense. What is he seeing? Why did he make that throw? Was there a reason he came off of his first read that early? It is all a test—but at the same time a process to develop his skills. Because that is where he needs to work. The talent is there, and the desire has never been a question.
It is all about Tebow becoming that pro QB that you can build an offense around. And that is what the new Denver coaching staff if going to want to see when they start their own talent evaluations of the Broncos roster this offseason. Turn on the tape and make a decision: is Tebow our guy for the future?
Follow me on Twitter: MattBowen41