August 27, 2011 -
Matt Bowen
What's the deal Roy?
Earlier this month, I went down to Bears training camp at Bourbonnais and took in practice. My focus: the wide receivers. After playing DB in the NFL, I do believe I have an eye for a WR's ability to run routes, win vs. press-coverage, get in and out of breaks, etc.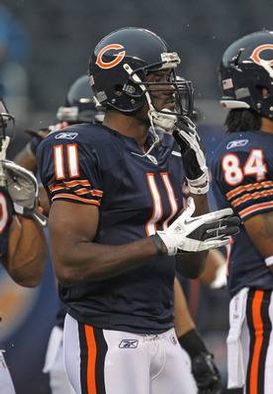 All eyes should be on Bears WR Roy Williams vs. the Titans tonight.
I wrote up Hester, Knox, Bennett and, of course, Roy Williams. The new Bears WR looked smooth in practice. Could get vertical, control his footwork and catch the football coming back to the QB.
What you want to see in August—and what you expect from a vet.
The problem here? Williams hasn't shown that in the preseason, and with Johnny Knox looking to get his job back, Roy better come to play tonight in Nashville vs. the Titans.
Williams has taken some heat this week here in Chicago. That's going to happen when you are expected to take over a No.1 role in Mike Martz's offense and haven't shown consistent production in camp or the preseason.
Go back to Monday night in New York vs. the Giants. Third down situation. Exactly where you make your money as a WR in this league. What did we see? Williams runs the deep curl (at first-down depth) and can't finish the play.
Hey, its preseason right? Not when you haven't had a reception in two games. And when a player down the depth chart is pushing for your job, those missed opportunities are now magnified.
I do see Williams having the ability to produce in Martz's offense. The deep dig, 7 route (corner) and in the crucial third and medium situations (3rd and 4-7) where the basic 3-step slant comes into play. Be that No.1 that QB Jay Cutler needs.
However, Williams has to show it—tonight. Win at the line of scrimmage, make some plays and catch the football. Let's see what happens down in Tennessee…
Follow me on Twitter: MattBowen41