May 21, 2012 -
Matt Bowen
What's the real value of 'OTAs' in the NFL?
Is there any real value for NFL clubs as they begin to start their "OTAs" (Organized Team Activities) this spring? Well, that all depends on what you are looking for.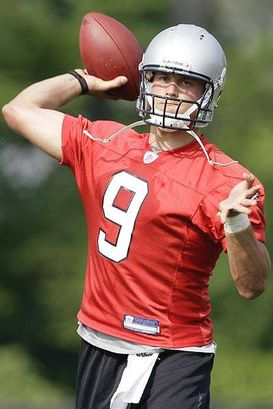 Matthew Stafford and the rest of the players in the NFL will have a key focus on playbook install during OTAs.
This isn't true competition and I never saw a player win a job in May (wearing shorts and a helmet). There will be some "Mini-Camp All Americans" who make play after play (only to vanish when the pads go on) and plenty of coaches yelling "stay up" during 11-on-11 team drills.
As a player, I needed OTAs to work on my footwork, route reads, deep half drops, leg strength through functional football movements, etc. And that can be applied to every position. It is a great time to focus on technique and football conditioning for veterans.
And for rookies it is the perfect time to get introduced to NFL speed during practice. I still remember the amount of legit speed (and talent) I saw in St. Louis as a rook vs. Warner, Faulk, Bruce, Holt, Hakim and Proehl during spring workouts. Still the best offense I've ever been around.
That's all good and it does have some value for players in every stage of development.
However, I always focus on the playbook install in OTAs. We have to remember that pro clubs don't install the base offensive and defensive schemes during training camp. There is no time to have multiple walk-thru periods (or correction periods) when paychecks are on the line and you are getting ready for the regular season.
That happens now—in the offseason.
Start slow (think Cover 1, Cover 2 and some based zone blitzes on defense) and build up throughout the spring and early summer. By the time you take off in July (before you come back to report for camp), you will run through exotic formations, blitz schemes, etc.
For most teams, the entire playbook is installed in shorts. And every team expands and makes adjustments to their playbook in the offseason. Plus, you have time to make mistakes, get back in the film room and detail your technique to fit the demands of the scheme you play in during these OTAs.
Like I said above, this isn't pure competition without the gear on. Sure, there will be the standard group of veterans that miss out on these workouts due to contract issues (and they will be forced to catch up once they sign). But from a player's perspective, these OTAs will impact the regular season when it comes to the playbook. That's key.
Follow me on Twitter: @MattBowen41