October 05, 2011 -
Matt Bowen
What's the story with McDaniels and the Rams?
After four weeks, coaching staffs start to do some self-scouting. Is the game plan working? What do we have to change? Do we need mix up the lineup? Questions that you want to get answered before you move onto the "second quarter" of the regular season.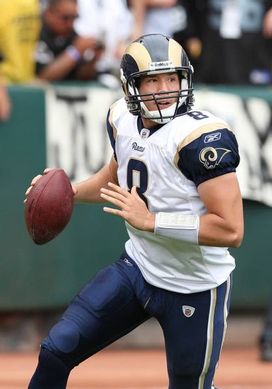 ICONBradford and the 0-4 Rams are struggling to produce points in Josh McDaniels' offense.
In St. Louis, that has to start with Josh McDaniels and his offensive script—because it has been a bust.
I'm not big on numbers, stats, etc. when it comes to evaluating football teams on Sundays. However, looking at the offensive averages for the Rams, it is hard not to see the issues they are having during this 0-4 start.
- Points per game: 11.5 (31st in the NFL)
- Total yards per game: 279.5 (27th in the NFL)
- Passing yards per game: 187.0 (27th in the NFL)
- Rushing yards per game: 92.5 (23rd in the NFL)
I understand the lack of talent outside of the numbers despite the pick-up of free agent WR Mike Sims-Walker (11 receptions on the season), plus the injuries to WR Danny Amendola and RB Steve Jackson.
However, every team experiences some sort of adversity with injuries in the NFL season. And the scheme shouldn't fall apart with it.
The biggest concern here, from my perspective, is the development of QB Sam Bradford. His numbers are down, he has been sacked 18 times through 4 weeks, is completing less than 50% of his passes and we aren't seeing execution that is leading to points.
No question he has to take some of the blame here, because he is a pro QB. Production is expected when you are a No.1. But I still see too much talent with Bradford for the Rams to continue to struggle from an offensive perspective.
St. Louis couldn't ask for a better time to get their bye week than now. These players and coaches need to break down the film, make the corrections and also see that the proper adjustments are made to the game plan.
With the 49ers at 3-1, there is still time to get back into the NFC West discussion. But that only happens if McDaniels can get his offense to start producing points.
Follow me on Twitter: MattBowen41